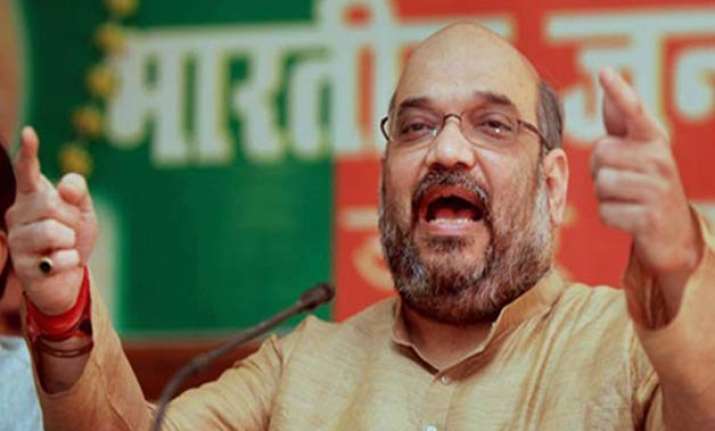 New Delhi:  Citing BJP's victory in Bihar Legislative Council poll today, party chief Amit Shah said the Janata Parivar has proved to be a damp squib even as he reached out to the OBC voters, saying his party had given the first Prime Minister and maximum chief ministers from the community.
Addressing the first meeting of the newly-created OBC Morcha of the party, he targeted parties "formed" for the welfare of the OBCs, saying they had been reduced to one caste while BJP today has most MLAs and MPs from the grouping.
He was apparently attacking parties like SP, RJD and JD(U), which have come together to take on BJP.
"We have not been in power for long but it is the BJP which has given the maximum number of OBC chief ministers. And the first Prime Minister from the community has also come from BJP. Today, the most OBC MLAs and MPs come from BJP. It shows how much importance the party has been given to OBCs," Shah said.
The Morcha will play an important role in the coming days, he asserted with its head S P Singh Baghel saying it will work to win Assembly election in Bihar and Uttar Pradesh, two key states in the party's scheme of things and where it faces strong challenge from regional satraps drawing their support from the OBCs.
Referring to the party's win in the Council poll in Bihar, where he said with BJP-led NDA winning 13 of the 24 seats, it would lead to the party's victory in the Assembly election, likely to be held in September-October.
"The countdown to BJP's victory in Bihar has started today. The BJP-led NDA has won 13 out of 24 seats while it earlier held only five seats. There was a lot of hype around Janata Parivar in Bihar but people have proved that it is a damp squib," he said.
Shah said it was only during his Lok Sabha poll campaign in Uttar Pradesh, where BJP swept under his charge, and then his tours across the country as the party president that he realised that the country's progress lay in the development of the OBCs. He was not aware of it when he was working in Gujarat, he said.
He said unlike other OBC-based parties, the Morcha will not work to divide the society but bring small backward communities to get them their due.
The Morcha is not meant to "cut" the upper casts from the society but unite the backwards, he said.