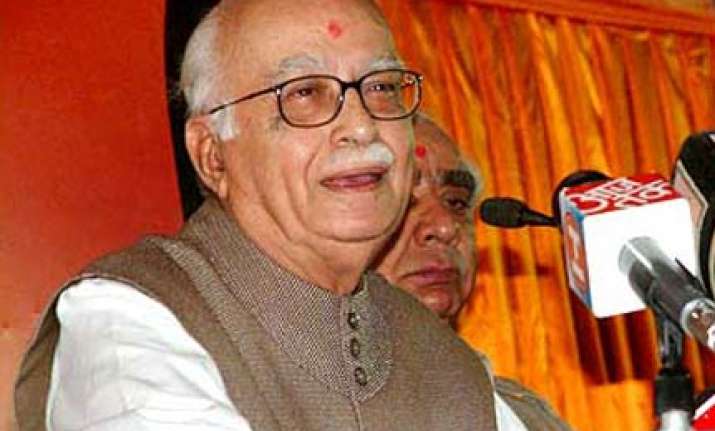 New Delhi, Oct 17 : Attacking Jammu and Kashmir Chief Minister Omar Abdullah for his statement that the state has not merged with India but acceded to it, senior BJP leader L K Advani today demanded his resignation saying he is "out of tune with the national mood".
"The demand for Omar Abdullah's resignation that was being made till recently was on the ground that he had totally failed to deal with the situation in the Valley created by stone-pelting mobs. There were elements willing to attribute it to his administrative inexperience.
"But this latest speech of his reveals that he is not just an administrative failure, but that in so far as J and K is concerned, he is totally out of tune with the national mood. The earlier he quits the better it would be for Jammu and Kashmir as well as for the nation," Advani said in his blog.In his latest post entitled 'An Unpardonable Gaffe', the BJP leader said in a sarcastic tone that the Chief Minister "has indeed made history".
"No other chief minister of Jammu and Kashmir has ever taken exception to anyone saying that J and K state is an integral part of India. Omar has not only chided the BJP for doing so but has gone further to make an assertion over which both the separatists in the state as well as the Pakistani media have gone into raptures," Advani said.
"In his Assembly speech, Omar Abdullah also referred critically to BJP's demand for repeal of Article 370," Advani said, adding that even in the separate Constitution that J and K has by virtue of Article 370, it is written that the state of Jammu and Kashmir is and shall be an integral part of the Union of India.
"Fact is that all the over 500 princely states, including Hyderabad and Junagarh which Omar specifically mentioned as being different from Jammu and Kashmir, have become integral parts of India after independence and had signed the same Instrument of Accession that Jammu and Kashmir signed," he said. Advani said that his party has always been committed to 'Ek Pradhan, Ek Nishan and Ek Vidhan' (One President, One Flag and One Constitution).PTI