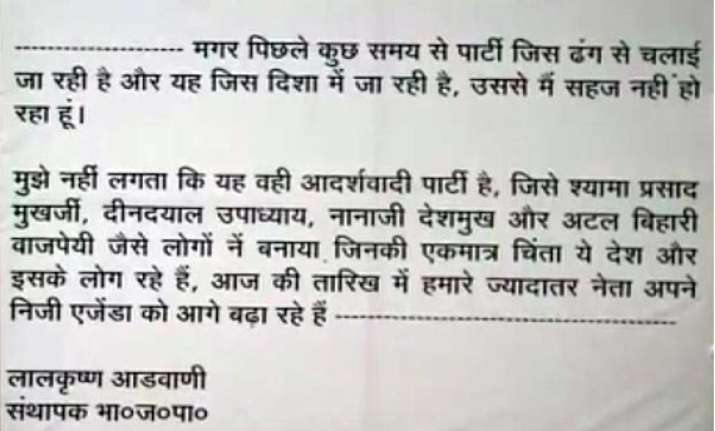 New Delhi, Jun 11: Posters with L K Advani's resignation letter appeared this morning outside the headquarters of Bhartiya Janata Party, as party workers scrambled to pull them down.
"BJP ka pardafaash" screamed the header on the posters, and at the bottom was written: "Lal Krishna Advani, sansthapak, BJP"  (founder, BJP).
The posters were found posted mostly  near the BJP office. Police suspect this to be the handiwork of some mischievous elements.
Meanwhile, the BJP patriarch is adamant on his resignation from all three key posts in the party, despite late-night persuasion by droves of party leaders.
Sources close to party president Rajnath Singh said, Advani has conveyed to his close confidantes that he was being sidelined since 2004 in the party.
Late night Leader of Opposition Sushma Swaraj, who led party leaders Arun Jaitley and Ananth Kumar, to hand over the parliamentary board resolution rejecting the resignation, to Advani, tweeted: "We are all united. We are all one. We will move forward with the blessings of Advaniji.  BJP parliamentary board has rejected the resignation of Advaniji. There is no crisis in BJP."