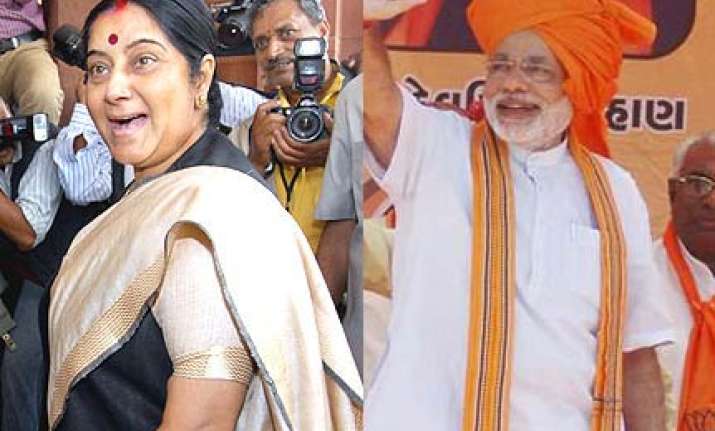 New Delhi/Bangalore, Oct 27  :A section of the BJP is reported to be unhappy over top BJP leader Sushma Swaraj's comments that Gujarat Chief Minister Narendra Modi's magic may not work everywhere but the party itself downplayed it saying he is a "national leader."
As Swaraj's comments yesterday fuelled a debate in the saffron party, an advertisment inserted in newspapers of Ahmedabad lauding achievements of Modi also raised questions whether it was aimed at the Leader of the Opposition in the Lok Sabha. 
The BJP's praise of Modi as a "national-level leader" came when it credited him for it's victory in local body polls in Dadra and Nagar Haveli. 
"There was a wave (in favour of BJP) in Dadra and Nagar Haveli local body elections which started from Gujarat due to Narendra Bhai and had an influence on the polls," BJP vice-president Najma Heptullah told reporters in New Delhi. 
Heptullah, who is in-charge of Dadra and Nagar Haveli, gave credit to Modi and the development work he had done in Gujarat.
She maintained that Dadra and Nagar Haveli-- which is governed by the Centre as it is a union territory--was impressed with the prosperity under Modi in neighbouring Gujarat. 
 Asked if this indicated that Modi was emerging as a national-level leader and would play a significant role at the Centre soon, party spokesperson Prakash Javadekar said, "Modi is a national-level leader." 
Swaraj had said during the on-going Bihar poll campaign that Modi's magic may not work everywhere in the context of whether or not the posterboy of Hindutva should be roped in to back up party candidates in the eastern state. 
"Modi's magic has worked well in Gujarat. It does not mean that every magic would work at every place", she said. 
 Many in the top rung of the party are said to be unhappy with this "uncalled for" statement from Swaraj. 
"Nobody would agree with Swaraj on this issue, especially at a time when he has led the party to a sweeping victory in the local body elections in Gujarat," a senior leader said. 
BJP MLC Lehar Singh from Karnataka, the man behind the newspaper ads in Ahmedabad, also sought to downplay his move, describing his action as a "gesture in appreciation of achievements of Modi Government". 
"There is so much of development and achievements to the credit of Narendra Modi. He has won election after election. Some of my friends thought it would be a befitting thing to advertise his government's achievements..... and I did it", Singh, a confidante of Karnataka Chief Minister B S Yeddyurappa, told PTI in Bangalaore 
To a pointed query, he rejected a suggestion whether his actions related to Swaraj's statement.PTI