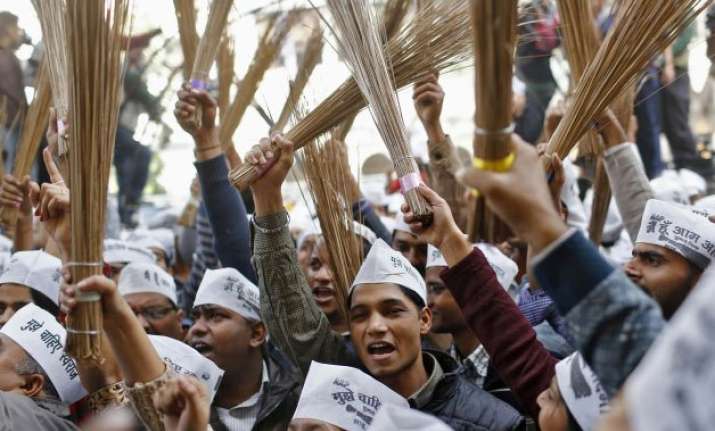 New Delhi:  The Aam Aadmi Party has finally taken a decision to appoint MLAs in various civic bodies of Delhi.
Reportedly, the state government has plans to place the key members at crucial posts like that of members in agencies like DDA (Delhi Development Authority) and DJB (Delhi Jal Board).
DDA (Delhi Development Authority)
For DDA the two names that have been finalized by AAP are – Somnath Bharti and SK Bagga.
The highlights of the profiles of the two include Bharti's law ministerial acquisition of office in the last 49-day AAP government while Bagga is the one who defeated Kiran Bedi in her own constituency - Krishna Nagar in the recent Delhi elections.
DRDB (Delhi Rural Development Board)
Approximately, 29 MLAs have already been approved by CM Arvind Kejriwal. Out of them, 20 to 22 MLAs are expected to go to Delhi Rural Development Board.
It is learnt, Raghuvendra Shokeen, MLA from Nagloi Jat will be the chairman to DRDB while Ved Prakash, party's MLA from Bawana will be  the vice-chairman.
DJB (Delhi Jal Board)
At DJB, Kapil Mishra, MLA from Karawal Nagar will be the chairman while Prakash Larwal, the MLA from Deoli and Ritu Raj, MLA from Kirari will be the members.
As per protocol, Chief Minister is usually the chairman of DJB.
A senior party leader told to media that the final lists with the names of many more committees and their members will be announced soon.
A list of district development committees is also on the cards.
Meanwhile, the party has decided to retain its Hari Nagar MLA, Jagdeep Singh, as chief whip. It is understood that Delhi Women's Commission chief Barkha Singh will be allowed to continue till July 18, the day she retires.
Party may also appoint 15 parliamentary secretaries while several others are likely to get posts in district development committees. This will be the first time when any party will have such a large number of Parliamentary secretaries. The earlier Sheila Dikshit government had only three.
As published in a report by Indian Express, when BJP's comment was sought on appointment of so many parliamentary secretaries, a BJP senior leader and former MLA, V K Malhotra, said, "There is no cap on how many of them you can have. But as they get a car, an office and other benefits, the government should have a minimal number of them."