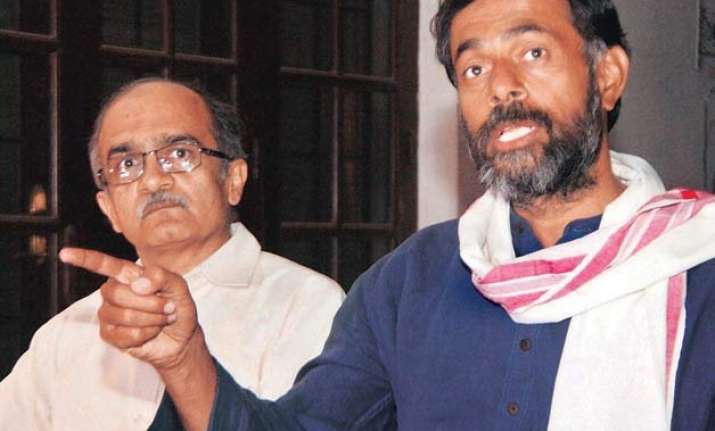 New Delhi: With hectic parleys on, the two warring factions of AAP are stuck over "theory" and "practicality" of the probable solutions to the contentious issues like expansion of the party in states and role of volunteers in the organisation.
However, both sides were in agreement on certain issues, but the only hitch was on the operational front, sources said.  The Arvind Kejriwal camp represented by Delhi unit secretary Ashutosh and Delhi Dialogue Commission chairman Ashish Khetan met Yogendra Yadav along with Ajit Jha in the morning to dicuss the nitty-gritties of how to take the discussion forward.
Meanwhile, there was another meeting between Yadav and another dissident leader Prashant Bhushan today. The meeting went on for around two hours at Bhushan's office in the Supreme Court. However, both the leaders refused to speak on the issue.
Sources said there was still a level of "mistrust" between the two groups and meetings were at least helping bridge the gap. Incidentally, Bhushan has refused to meet anyone but Kejriwal. He is being represented by AAP leaders and National Executive members Anand Kumar and Ajit Jha.  There are many issues on which the both the camps are not on the same page despite being in agreement over some issues.
While the Yadav and Bhushan camp insists on addressing certain issues like appointing of Lokayukta, giving more thrust on volunteers, the Kejriwal camp is expressing quick progress on many issues.
The discussion concentrated on clarity on the decisions taken by the PAC early this week, which included expanding and contesting in other states and preparing an active list of volunteers.
While a decision was taken to prepare an active list of party volunteers, Yadav's camp insisted that the list should be out in a month while the Kejriwal camp said it would take at least three months to do so.
Giving more autonomy to state bodies was also discussed, but then the issue got stuck over the extent of autonomy.
We have an experience of 2013 Assembly, 2014 Lok Sabha and 2015 Assembly election. So, we conveyed that we cannot have knee-jerk reactions. The process of resolving issues will take some time," said a party source.
The bone of contention is also about the demand of Lokpal inquiry in certain issues.
Another contentious issue is identification of states where the party wants to expand in coming years and faces who can represent AAP in those states.
Another discussion that came up was appointing a Lokayukta at the state and district level to resolve issues, as per the party constitution.
Currently, the party has only one Lokpal and no Lokayukta at the state or district level.
The issue of bringing the party under the ambit of RTI was also discussed.