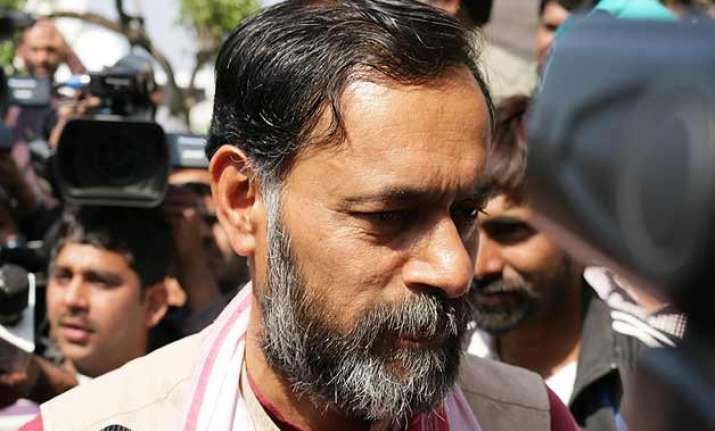 New Delhi: The Aam Aadmi Party on Tuesday removed Yogendra Yadav from the post of chief spokesperson. The party has appointed a 20-member spokespersons panel.
The move came a day after the party sacked Prashant Bhushan as AAP's national disciplinary committee chief.
The decision to remove Yadav from the post is an expected one following his removal along with Prashant Bhushan from the party's Political Affairs Committee and National Executive.
Removal of Bhushan and Yadav from key panels is being seen as a precursor to their expulsion from the party.
Interestingly, Yadav, who is also the state convener of AAP's Haryana unit, was the only leader to have been designated as chief spokesperson when the party constituted the panel of its spokespersons.
On Sunday, the party sacked Bhushan from the disciplinary committee and replaced him with a panel of three members known to be close to AAP chief Arvind Kejriwal.
AAP's internal Lokpal Admiral (retd) L Ramdas was also shown the door for airing critical views about the party leadership. He has been replaced by a three-member Lokpal panel comprising two former IPS officers and one educationist.
Official Spokespersons
Media coordinator: Deepak Bajpai
Spokespersons:
01. Sanjay Singh 02. Kumar Vishwas
03. Pankaj Gupta 04. Iliyas Azmi
05. Ashutosh 06. Ashish Khetan
07. Dilip Pandey 08. H S Phoolka
09. Bhagwant Mann 10. Saurabh Bhardwaj
11. Rahul Mehra 12. Adarsh Shastri
13. Preeti Sharma Menon 14. Prithvi Reddy
15. Nishikant Mohapatra 16. Alka Lamba
17. Kapil Mishra 18. Akshay Hunka
19. Richa Pandey Mishra 20. Raghav Chadha