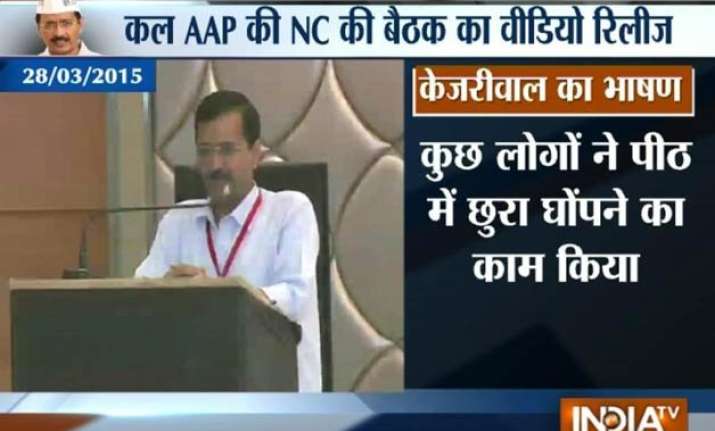 New Delhi: Aam Aadmi Party (AAP) today released a 45 minute video of party chief Arvind Kejriwal's speech which he delivered at the National Council meeting on Saturday.
In the video, which was shared on YouTube, Kejriwal accused dissidents Yogendra Yadav and Prashant Bhushan of conspiring against the party.
"I say this with sadness that at a time when the public supported us, our own friends stabbed us in the back," Kejriwal said in the video. 
ALSO READ: AAP appoints news Lokpal panel, drops Bhushan from disciplinary panel
"There were attempts to weaken me, weaken the party. When I came back from Bengaluru, I spoke to members of my team and sent them the same night to speak to Yogendra bhai. From that day, we tried our best the problem would get resolved," Kejriwal added.
The month-long internecine war between Kejriwal and dissident leaders Yogendra Yadav and Prashant Bhushan came to a head yesterday with the duo being expelled from the party's national executive for sabotaging the organisation.
The founder-members, who were ousted in a 247-8 vote at the 311 members National Council meeting - marred by protests and chaos - termed the decision a 'farce and illegal', saying they might seek legal recourse.