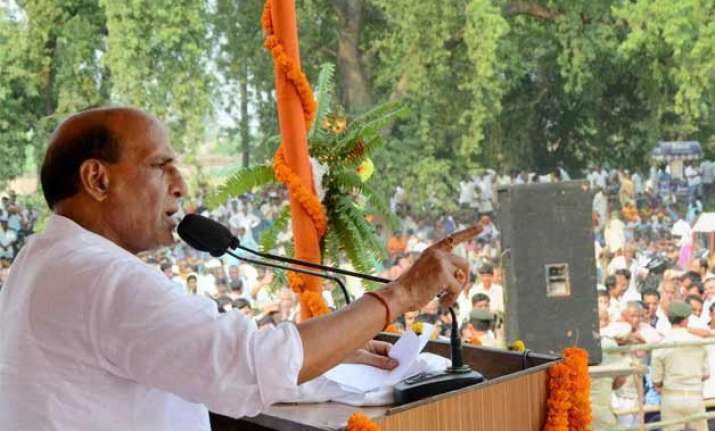 Varanasi/New Delhi: 50 persons were arrested here after violence and arson broke out on Monday during a march by seers and other local leaders against police action on protesters opposing ban on immersion of Ganesha idols in Ganga, an incident termed as unfortunate by Home Minister Rajnath Singh.
Apprehending trouble, Varanasi District Magistrate Rajmani Yadav ordered closure of schools and colleges today.
Traffic on the roads was thin and only few tourists were visible in Godowlia area hit by the violence in the Lok Sabha constituency of Prime Minister Narendra Modi.
25 people, including eight policemen, were injured as protesters went on a rampage, pelting stones and setting afire at least four police vehicles, booths, nearly half-a-dozen motorcycles and some shops.
They also hurled crude bomb. The protests were against police action on demonstrators demanding withdrawal of the SP government's ban on immersion of Ganesha idols in Ganga.
"Whatever happened in Varanasi was very unfortunate. Law and order is a subject related to the state government. I have talked to several officials yesterday and I have been informed that efforts are being made to normalise the situation," Rajnath Singh said in Delhi.
The Home Minister had last night spoke to Varanasi SSP Akash Kulhari to take stock of the situation and asked him to ensure peace.
A large contingent of security forces has been deployed in the affected areas. The situation is "under control and peaceful", an official said in Varanasi.
Curfew imposed in four police station areas of Varanasi following outbreak of violence yesterday was lifted at around 9 PM last night.
Security forces are combing the affected ares since last night. The number of arrested has risen from 29 to around 50 this morning, police said.
They have been arrested for alleged involvement in arson and brick batting incident, it said.
Godowlia crossing in the violence-hit area is the main entrance road leading to the ancient Dashashwamedh ghat, and a large number of domestic and foreign tourists visit the area.
However, very few tourists visited the ghats today apparently due to yesterday's violence. Even the boatmen were conspicuous by their absence with only a small number of boats ferrying people from the ghat here.
Lawyers in local district court also boycotted work for the second consecutive day against the police lathicharge on seers and locals on September 22 night when they were staging a dharna at Godowlia crossing here over idol immersion issue.
Violence erupted yesterday as thousands of people, including seers, Congress MLA Ajay Rai along with some other leaders from his party and those from BJP took out the march from Townhall to Dashashwamedh Ghat to protest against police lathicharge.