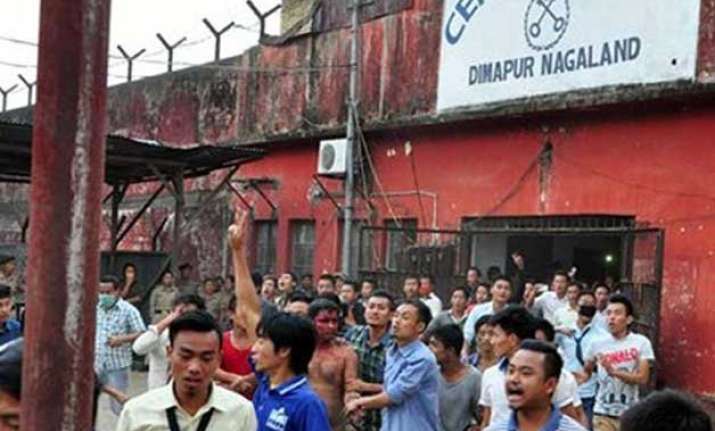 Dimapur/Kohima: Three senior officials of Dimapur, including the SP and the central jail chief, were suspended today and a judicial inquiry was ordered into the lynching of a rape accused by a mob in this Nagaland town where the situation was stated to be tense but under control.
One person identified as Inito Swu, who was among the five injured in police firing on the mob, succumbed today, police said.
Neighbouring Assam was put on high alert by the Centre following the incident in Dimapur as the rape accused Syed Farid Khan is believed to be from that state.Khan had allegedly raped a Naga woman several times before he was arrested on February 25.
Infuriated by the alleged rape, the mob had forced its way into the Central jail on Thursday, pulled Khan out of the prison, paraded him naked before lynching him.Karai Chawang, Press Officer to Nagaland Chief Minister T R Zeilang, told PTI on phone from Kohima that a meeting of the state cabinet decided to suspend Deputy Commissioner Wezope Kenye, SP Meren Jamir and B. Chuba Phom, Senior Superintendent of Central Jail, for "their failure to control the situation."
CMO sources said the Cabinet, presided by Zeilang, ordered setting up of a one-man commission headed by Veprasa Nyekha, retired District and Sessions Judge, to inquire into the lynching and other related incidents.  The Cabinet also resolved that the persons who had incited, instigated or encouraged the mob in the jail break, taking out of the accused from judicial custody and in torturing him to death be arrested and prosecuted.Chawang identified the deceased rape suspect as Syed Farid Khan.
One person was injured in police firing on the mob and he later succumbed to his injuries, Meren Jamir, Superintendent of Police of Dimapur, said earlier, adding in all four to five people had sustained injuries in the action.  He said curfew remained in force in Dimapur where the situation was "under control."Jamir said police could not prevent the mob attack on the jail as the securitymen were vastly outnumbered and there were several school children in the mob.
Asked to comment on reports that the rape accused was a Bangladeshi immigrant, Jamir said "I cannot tell you anything on that now and it is a matter of investigation."