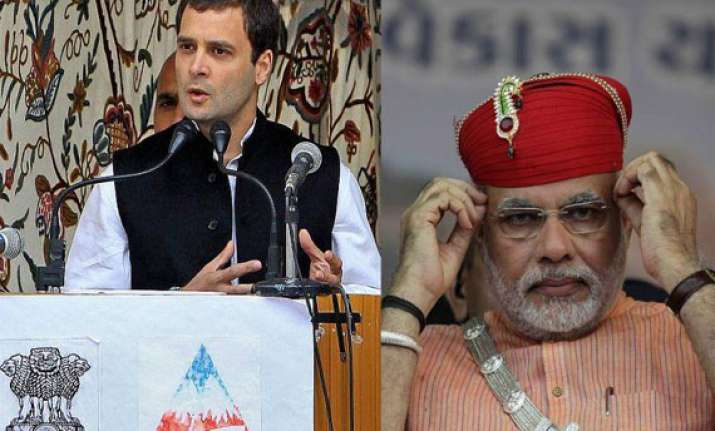 Sanand, Gujarat, Dec 11: Making his first appearance in the Gujarat Assembly election campaign, Congress leader Rahul Gandhi today unleashed an attack on Chief Minister Narendra Modi calling him a "marketeer" who does false propaganda claiming progress in the state.
"People's voice is not heard in Gujarat. The government of Gujarat and the Chief Minister do not want to listen to you. He wants to hear only his own voice. He has his dream and he thinks only about his own dream. A true leader makes people's dream his own dream," he said addressing a rally here, the town where Tata Motors relocated from Singur to make low-cost Nano car.
The Congress General Secretary claimed that a false propaganda that Gujarat was making all round progress has been launched but contrary to it there is rampant corruption in the state, unemployment is very high and there is all round failure.
"The marketeer says Gujarat is shining. But tell me how many hours people get water ? People get water for 25 minutes in every three days. But marketeer says Gujarat is shining. There are 10 lakh unemployed youth in Gujarat. But marketeer says Gujarat is shining," he said.
Rahul said voice of poor and down-trodden is suppressed in Gujarat as the leader does not want to hear common people's grievances.
"Gandhiji and Nehruji always wanted to hear people's voice. They were true leaders," he said.
The Congress leader claimed that even opposition's voice is curbed in Gujarat as the Assembly sits for just 25 days in a year and very often opposition leaders are thrown out of the House.
Rahul said there is no Lokayukta in Gujarat and 14,000 RTI applications were pending as government does not want to let any information come out as it would expose its true affairs.
Attacking Modi in the land of the Mahatma, Rahul said, "Gandhiji had one simple rule that voice of not only every Indian, but for that matter voice of everyone in the world should be heard, whether that person is poor or rich...That person may be of any region, religion or caste, but his voice should be respected.
"If I have any 'guru' in politics, then he is Gandhiji," he said, adding that the Mahatma's teaching were not being followed in Gujarat.
"Take a look at the UPA government, at (Prime Minister) Manmohan Sinhji, (Congress president) Soniaji, our ministers and our programmes. And not only of the UPA government but look at past 60-70 years. And show me one programme which has taken away anybody's voice," the Congress leader said.
He said that banking on false propaganda an image has been created that Gujarat is shining.
"Shakti (power) is not in one man's voice. Shakti is in entire Gujarat's voice, the voice of common man, youth of Gujarat and the tribals of Gujarat. This voice is being suppressed in Gujarat," Rahul said.
Earlier, Rahul went on to narrate a story of Mahatma Gandhi, Motilal Nehru and Jawaharlal Nehru.
"My father had told me this story, that during the freedom struggle when Jawaharlal Nehru was in jail...Gandhji had slept on the floor in their house in Allahabad leaving the bed empty.
"When Motilalji asked Gandhji why was he sleeping on the floor, he had replied that as Jawaharlal was sleeping on the floor in jail he was also sleeping on the floor," Rahul said.
"Today, when I was coming here I was thinking about what did Gujarat give me. Gujarat is a very important region of our country. The incident of Gandhiji with Motilalji and Jawaharji came to my mind. This is the history of Gujarat," he said.
"This is a gift from Gujarat. Ideology of Gandhiji is an ideology of Gujarat. Because of you, your ideology, we have democracy in the country," Rahul told the gathering.
Modi's counter punch  Modi wasted little time in taking on Rahul after his comments.
"If Rahul Baba is walking on Gandhiji's path, why is Bapu's 1 wish incomplete - to disband Congress after Independence?," the BJP leader said on microblogging site Twitter.
The Chief Minister also referred to Rahul's remarks on Mahatma Gandhi at his rallies.
"Rahul Baba said he was walking on Gandhiji's path but if he is actually walking on it, then one wish of Mahatma Gandhi would not have been left incomplete, which was to disband the Congress after Independence," he said.
Countering the Congress leader, Modi tweeted, "Mr Rahul Gandhi talks of respect for Vidhan Sabha but his own attendance in Lok Sabha between May 2011-May 2012 was 24 out of 85 sittings."
Reacting to Rahul's allegations that the state Legislative Assembly did business only for 25 days in a year, Modi, the Maninagar MLA said at a rally, "From May 2011 to May 2012, Rahul Gandhi's attendance in the Lok Sabha was 24 out of 85 sittings. From 2010 to 2011, it was 19 out of 72 sittings!"
"If he had respect for the Parliament, he would go for all sittings!" he said.
If Rahul Gandhi had so much love for the Vidhan Sabha, he should know that in Gujarat, the Assembly has debated issues even for days on end but the attitude of the Congress has not been positive, Modi said.
"We discuss issues for many days and Bills are passed. But sadly Congress does not respect Vidhan Sabha also," he said.
"After detailed discussions in the Vidhan Sabha, the files are sent to the Raj Bhavan for Governor's signature," Modi said, adding that Raj Bhavan has been "converted to Congress Bhavan" by the Congress party.
At another rally, Modi said, "Today Rahul Gandhi came and said he had a close relation with Mahatma Gandhi. But he was not even born then."
On Rahul's narration of Mahatma Gandhi sleeping on the floor in Anand Bhawan in Allahabad, Modi said, "It was Mahatma Gandhi's greatness and his affection towards Nehru that he slept on the floor but the real issue is that Motilal Nehru slept on the bed when his son was in jail. You are descendants of Motilal."