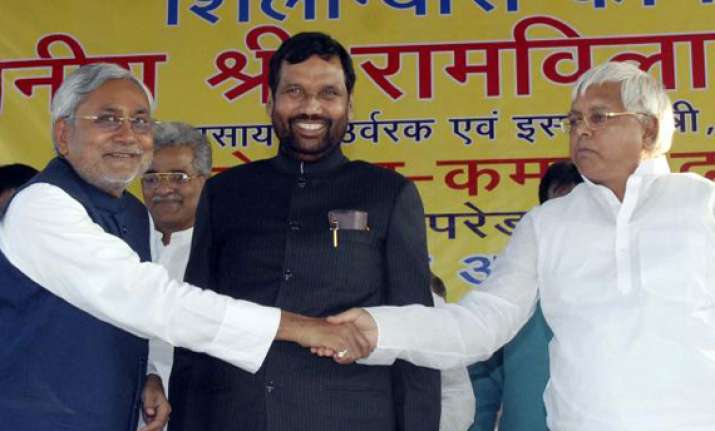 Patna, Dec 26: The year 2012 saw RJD chief Lalu Prasad trying to rock the boat of Nitish Kumar riding on the anger of the people against a series of incidents like Madhubani unrest, a stampede on Chhath and hooch tragedies but the government managed to ward it off.  
Coming out of the shock of a severe drubbing in the 2010 Assembly polls, Prasad, who stayed put in Delhi after the debacle, made frequent trips here to enthuse his party to sharpen attacks on the JD(U)-BJP government.  
The state witnessed arson and torching of police stations in Madhubani over administration's refusal to hand over a beheaded body to the kin of a school boy suspected to be killed over a love affair.
Opposition RJD, LJP and Left parties called a state bandh on October 15 over the incident but it turned out to be an anti-climax when Prashant Jha was found in Delhi with his girl friend Priti Chaudhary the same evening.  
The Opposition again tried to corner the government over the stampede during Chhath puja that claimed 18 lives in Patna and death of about 50 people after consuming spurious liquor in Muzaffarpur, Ara and Gaya but without success as Nitish won accolades for the development work in the state.  
Bihar's development progress was acknowledged even by the Planning Commission which reported that the state recorded 21.9 per cent growth rate during Eleventh Five Year Plan (2007-12), topmost among big states.
Kumar took over reins of the state in November 2005 ending the 15-year rule of RJD.  The pace of development continued in 2012 with significant works in all the sectors.
Presenting an annual report on completion of two years in power in its second stint on November 24, Nitish claimed his government was building 35 km of roads every day, the state was receiving more foreign tourists than picturesque Goa and there was marked improvement in health, education, agriculture and other core sectors.
The "Bihar model" of development received praise world over. Nitish, who led a delegation of ministers and officials of the state to Pakistan in November, received praise from Parliamentarians and members of civil society of the neighbouring country.
President Asif Ali Zardari hosted a dinner for him and his team on Diwali night, a rare honour for a Chief Minister.
Nitish also sought special category status for Bihar from the Centre so as to sustain double-digit economic growth.
He also met Prime Minister Manmohan Singh in this regard.  
The year also saw Nitish firing salvos at his Gujarat counterpart Narendra Modi and fissures within NDA at the state level.
Continuing with his vehement opposition to Modi's bid to emerge as the BJP's prime ministerial candidate for the 2014 general elections, he demanded that BJP should project a secular person with wider acceptability and threatened to severe ties with the saffron party if it did so.  State BJP chief C P Thakur made a strong statement that his party was prepared to contest on all 40 Lok Sabha seats in the state in 2014.
With controversy snowballing, national leadership of the two partners intervened and asked the state leaders to call a truce.
Modi made an unscheduled visit to Patna to pay respect to BJP leader and former Gujarat governor Kailashpati Mishra, who passed away on November 4. But Modi and Nitish did not meet.  Nitish charted a different path on the Presidential poll too.
While NDA supported P A Sangma, Nitish and his party JD(U) voted for Congress nominee Pranab Mukherjee.  While launching 'Adhikar yatra' from West Champaran district, he briefly caused a flutter in the political circles by announcing that he was prepared to extend support to any government which would grant special status to Bihar.
He, however, retracted by saying he had actually meant that the next government will be formed by a party or coalition only with the help of 40 MPs from his state in return of commitment to grant special status to it.
The Chief Minister met with some strong protests from contractual teachers during his Adhikar yatra who demanded pay parity with regular teachers.
In June, upper caste militia Ranvir Sena chief Brahmeshwar Mukhiya was shot dead by armed assailants in Bhojpur district triggering law and order problem with his supporters indulging in large scale violence and arson in Ara on the fateful day.  
A large crowd of mourners converged in the state capital next day for the cremation and laid siege of the streets and set on fire police posts, vehicles and beat up the people as the policemen looked helpless.
Stampede at the bank of river Ganga on November 19 on the occasion of Chhath in which 18 devotees lost their lives was another unfortunate incident.
Hooch tragedy in the end of the year in Muzaffarpur, Ara and Gaya in which more than 50 people lost their lives drew flak for the Nitish government.
Worried over illegal liquor trade flourishing in the state, the Chief Minister said he was in favour of prohibition but said it was not possible.  
RJD and other Opposition parties also tried to corner the government over alleged irregularities of about Rs 6000 crore in execution of MNREGA scheme in the
PCI Chairman Markandey Katju questioned Nitish's claim of development which was, however, brushed aside by the latter.
 The government hosted a 'Global Bihar Summit' in Patna which was attended by top corporate honchos who lauded the state government's efforts on the law and order front and policy initiatives to woo the private investments. Tourism emerged as a sunrise sector in the state.  
Though the state witnessed some adverse law and order events due to incident of murder, kidnapping and dacoity, it made national headlines with confiscation of former DGP Narayan Mishra's house at Rupunkura on orders of a court.  
Among other events, the Patna High Court quashed appointment of six VCs and Pro-VCs made by Governor Devanand Konwar for not consulting the state government. The state witnessed elections of Patna University students union after a gap of over two decades.
Earlier this year, the NDA government was locked in a tug of war with the Centre over setting up a central university at Gaya instead at Motihari as demanded by it. The issue was settled only after the Centre decided to set up a central university at Gaya as well in Motihari.  
2012 also saw revival of sagging political career of former chief minister Rabri Devi, who was elected to legislative council on lone seat going in the RJD's kitty.
The CM and his deputy Modi were also unanimously elected for another six-year term in the Council.