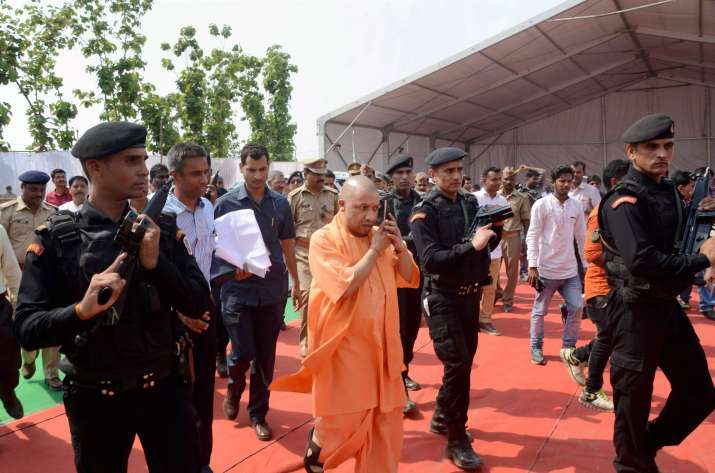 Uttar Pradesh Chief Minister Yogi Adityanath is visiting Darbhanga today to address a public rally on BJP's three years in power. Yogi's visit is being seen as a move to gain political mileage and help BJP make inroads into the state. Bihar Chief Minister Nitish Kumar had recently taken a dig at Yogi's visit saying it seems the party has no faith on state's leaders and this was the reason outsiders are called into Bihar. Nitish Kumar also asked Yogi Adityanath to not come to Bihar empty handed. He asked him to implement the liqour ban and 50 per cent reservation for women in local bodies in UP.
Local municipal body is busy making necessary arrangements for the high-profile visit.
Updates so far:
The arrangements have been hampered due to rough weather. The waterproof pandal erected for the public address has collapsed in the heavy rains. A bullet-proof dias has been built; new chairs are placed and coolers have been installed.
Yogi will land at Darbhanga airport and then will proceed to Mithila University's European guesthouse. He will address a public rally at Raj Grounds.
Yogi will welcome Janta Dal former MLA Rajesh Singh, who is joining the BJP.
He is scheduled to inaugurate 'Modi Fest' which would showcase achievements of NDA government at the Centre in the past three year of its rule.
Bihar BJP vice president Devesh Kumar had said that CM Adityanath's programme at Darbhanga on June 15  but that in Patna next day (June 16) has been postponed for now in view of election for Mayor of Patna Municipal Corporation.
UP CM Yogi Adityanath was supposed to visit Patna on June 16 but it was postponed  in view of election of Mayor of Patna Municipal Corporation.
Meanwhile, RJD chief Lalu Prasad Yadav had yesterday said the grand alliance of Janata Dal (United), Rashtriya Janata Dal (RJD) and the Congress is intact, adding that Prime Minister Narendra Modi will never be successful in capturing Bihar. Aiming to corner the Yogi Adityanath government as well as the Centre on farmers' issues and the problem of unemployment, the Congress will begin a "haq mango abhiyan" (fight-for-right) yatra across Uttar Pradesh today.