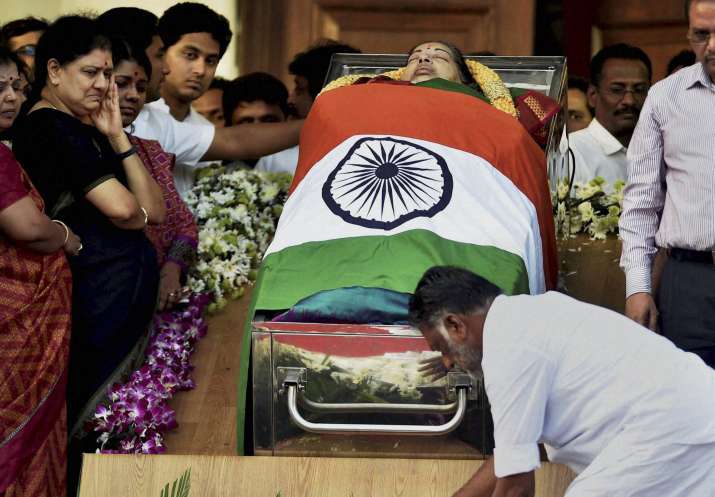 Sasikala Natarajan, the long time friend and aide of Jayalalithaa who supported her through thick and thin, has not left Amma's side even after her death.  
Clad in a black saree, a sombre-looking Sasikala, remained beside the casket of Jayalalithaa as people come and go after paying their homage at Rajaji Hall.  
Jayalalithaa's demise is seen as a personal loss for 59-year-old Sasikala who was probably one of the few occupants of the Chief Minister's Veda Nilayam residence at Poes Garden besides assistants and officials. 
Tipped to be the undisputed leader of AIADMK after Jaya's demise, Sasikala was one of the handful people who had access to the leader at the Apollo Hospital during her over two-month long stay. 
And today at Rajaji Hall where Jayalalithaa's body, draped in tricolour, has been kept for people to visit, Sasikala is a constant sight, intermittently standing up and touching her long-time friend's face.
While the top leaders and lawmakers from AIADMK occupy most of the space in the packed hall, members of Sasikala's extended family, which wields innumerable influence in the state, were seen surrounding Jayalalithaa's body.
In contrast, no member of Jayalalithaa's family was in the limelight. It does not come as a surprise, as her family members barely had any contact with her. As her political stature rose over the years, her family got farther away from her and Sasikala drew closer. 
Jayalalithaa's brother Jayakumar, her only sibling, died in an accident in 1995, and his daughter Deepa remained the closest living relative of her. Deepa had tried to meet the then Chief Minister she was admitted at Apollo Hospital but was refused access, a report in the Times of India said. 
The police had stopped Deepa and her husband from meeting Jayalalithaa when she arrived at the hospital. It was not clear as who gave the order, but it was suspected that it might have been Sasikala who ran the show when the Chief Minister was in the hospital. 
Ever since Jayalalithaa was hospitalised on September 22, Sasikala remained with her, giving the ailing AIADMK supremo much needed emotional support. 
The relationship between the two had kicked up many a storm during Jayalalithaa's three decades of political career with some blaming her proximity to Sasikala for the AIADMK's electoral defeats on some occasions. 
Both were accused in the infamous disproportionate assets case and were convicted by a trial court in Bengaluru, though the Karnataka High court later reversed the lower court order. 
Incidentally, Jayalalithaa had twice fallen out with Sasikala a few years ago for alleged anti-party activities. 
She and some of her family members had been expelled from the party and asked to vacate Jayalalithaa's Poes Garden residence. However, the separation between the two was short-lived as they patched up in no time. 
Sasikala then continued to accompany Jayalalithaa at various functions including the latter's election campaigns in her special vehicle, earning the sobriquet of 'Jayalalithaa's shadow' by detractors. 
Sasikala would usually be seen seated in the rear seat of the vehicle, merely watching Jayalaithaa's electoral addresses, and providing her 'akka' (sister) with assistance. 
She had come in contact with Jayalalithaa in the 80s as a video company owner, getting the leader's various events covered. 
Hailing from a humble background from Mannargudi in south Tamil Nadu, 'Chinnamma', as Sasikala was known in her circles, gradually gained acceptance in the Veda Nilayam residence, and even wielded influence in AIADMK at one point of time. 
There is almost certainty that either Sasikala or someone chosen by her would succeed Jayalalithaa as the next general secretary of the AIADMK.  
Even the Chief Ministerial choice O Panneerselvam is considered to be close to Sasikala and she had played a huge role in choosing him as the sit-in CM twice when Jayalalithaa had to give up the post after her conviction. 
Party sources said yesterday that while Panneerselvam will serve as the CM, Sasikala will control the party and in turn even the Chief Minister.