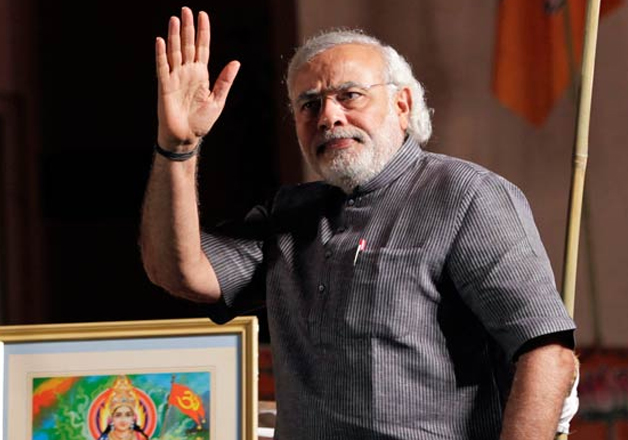 Keeping his promise of visiting Gujarat more often, Prime Minister Narendra Modi will travel to his home state on September 17 to celebrate his birthday. This will be his first planned visit to the state that will go to polls early next year.
On his 66th birthday, the Prime Minister will celebrate the day with tribals in South Gujarat, official sources said. He is also expected to address a public rally at Navsari town near Surat in the tribal belt.
However, officials were not clear about his detailed itinerary for September 17. Modi usually starts his birthday by visiting his mother Hira Ba in Gandhinagar and has maintained this tradition for many years.
In his speech after inaugurating an ambitious water and irrigation project in Jamnagar on August 30, his first official visit to Gujarat after assuming charge as Prime Minister, Modi struck a personal note with the people, admitting he had not been coming to Gujarat as often as he was expected to.
He said there had been complaints, including from former Chief Minister Anandiben Patel, that he was ignoring the state and added that he could not come often for he was stuck in Delhi where the work was new for him.
The Prime Minister said now that he has learnt the ropes and that he would visit Gujarat more often. He said he was implementing nationally the lessons learnt while running the government in the state.
The visit on August 30 was his second in the month after Sarangpur, again in Saurashtra, to pay tributes to popular godman Pramukh Swami of the Bochanwasi Akshar Purshottam Swaminarayan sect on August 15.
The Prime Minister is coming next to Gujarat in the first week of November to inaugurate the World Kabbadi Championship in Ahmedabad. The championship will be held in the Maninagar area, which used to be Modi's assembly constituency during his tenure as Gujarat Chief Minister.
Modi is expected yet again early next year for the Eighth Edition of the prestigious biennial Vibrant Gujarat Global Investors Summit, an initiative that had helped him build a national image of the most industry-friendly Chief Minister in the country.
The event is expected to be held in the second week of January 2017 in the state capital Gandhinagar.
Gujarat goes to the polls in December next year and BJP sources believe Modi's frequent visits here would be critical to the party's electoral prospects in the wake of the pro-quota agitation of the Patidar and the Dalit uprising following the Una atrocity against members of the community.
With IANS Inputs