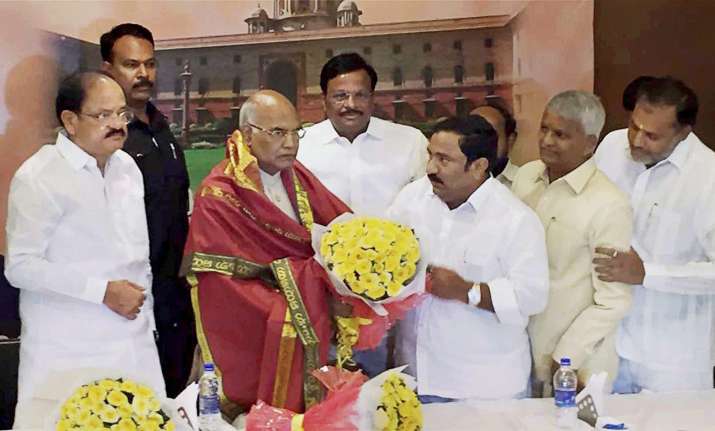 NDA's presidential candidate Ram Nath Kovind on Tuesday said that the President's office should be kept above party politics and promised that if elected, he will uphold the highest esteem of the prestigious office.
Campaigning in Telangana and Andhra Pradesh, Kovind appealed to all members of the presidential election collegium to support his candidature.
He also said that he is not associated with any political party
Kovind addressed meetings of ruling parties in both the Telugu states, besides meeting MPs and MLAs of Andhra Pradesh's main opposition party YSR Congress and leaders of Bharatiya Janata Party (BJP), an opposition party in Telangana.
He spoke at the meeting of the leaders of ruling Telangana Rashtra Samithi (TRS) in Hyderabad and a joint meeting of Telugu Desam Party (TDP) and its alliance partner BJP in Vijayawada.
"Ever since I became Governor of Bihar, I have been working throughout in a non-partisan manner, keeping every citizen of Bihar with equal status without any discrimination. I can assure you that I will continue to keep the position of the President above party," he told the meeting attended by TRS President and Chief Minister K. Chandrasekhar Rao, Union Minister M. Venkaiah Naidu and some other BJP leaders in Hyderabad.
"As on today I am not associated with any political party. Of course my earlier background had been with the BJP. I had the privilege of working in the team of Venkaiah Naidu. Even after resigning the governorship, I did not join any party," Kovind said.
At Vijayawada, Kovind said that for President, the Constitution is the "Geeta", "Quran", "Ramayana" and the "Bible". "It is the only guide book by which the President is supposed to work," he said.
He said for President the well being of every citizen of the country, irrespective of caste, region, religion and geographic location was important.
Stating that the President is also the supreme commander of the armed forces, he said security of "our international borders should be our topmost priority".
"I can assure you I will always strive for all round development of the nation irrespective of caste, creed, language, region and geographical situations."
He said he would also do his best to fulfil the aspirations of youth and for development of modern education.
"We have to fulfil dream of new India which our honourable Prime Minister has been advocating till 2022 when we celebrate completion of 75 years of our independence."
He expressed his gratitude to NDA and non-NDA parties especially TRS and TDP and noted that TRS and TDP chiefs had extended him the support even before his candidature was announced.
During his speeches in both Hyderabad and Vijayawada, he pointed out that many luminaries adorned the post of the President and referred to Zakir Hussain, who was born in Hyderabad and Neelam Sanjiva Reddy, who hailed from Andhra Pradesh.
In Vijayawada, he paid tributes to TDP founder, the late N.T. Rama Rao and recalled his contributions to both the cinema and politics.
In Hyderabad, Kovind thanked Rao for having installed many hoardings in the city in his honour and for delivering his speech in Hindi.
KCR, as Rao is popularly known, said Telangana would look towards Kovind for his blessings for development. Stating that TRS is extending full support to him, he said Kovind was sure to get elected with a huge majority.
TDP president and Andhra Pradesh Chief Minister N. Chandrababu Naidu, in his speech, said that he feels that it is a good fortune to vote for Kovind. Stating that Kovind joined BJP 26 years ago, he said he was never involved in any controversy.
Kovind, who arrived in Hyderabad in the morning, also addressed the MPs and state legislators of BJP and YSR Congress Party. YSR Congress chief Y.S. Jaganmohan Reddy introduced his party leaders to the NDA nominee.
In Vijayawada, Kovind along with Venkaiah Naidu and Chandrababu Naidu attended 'Sri Venkateshwara vaibhotsavam' and performed 'puja' at the model TTD temple.
Addressing the meetings in both the states, Venkaiah Naidu said the presidential election was not an ideological fight as some opposition parties were trying to project it.
(With IANS inputs)