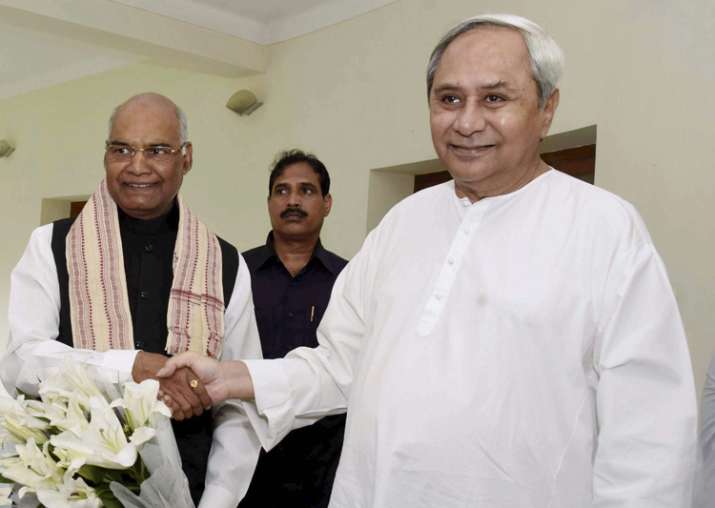 The NDA's presidential pick Ram Nath Kovind today assured the MLAs and MPs of the ruling BJD in Odisha that he would act in an "impartial manner" and upkeep the dignity of the office of the President.
The BJD had announced its support for Kovind even though the party's president and Odisha Chief Minister Naveen Patnaik had in the past dubbed the BJP as "communal" and even severed his party's ties with it prior to the 2009 general elections.
Announcing his support for the NDA's presidential candidate, Patnaik had describing Kovind as a "distinguished Dalit leader." Kovind's assurance appeared to have cleared doubts of several BJD MLAs and MPs who initially sounded sceptical about the party backing him.
"I know Kovindji for a long time. He is a gentleman. Kovindji has assured us that he will act in an impartial manner and protect the interest of all states and languages," BJD MP Baijayant Panda told reporters after the meeting.
Panda said he was optimistic that Kovind would maintain the high dignity of the office of the President of India. The BJD's Rajya Sabha MP A U Singhdeo said that Kovind has assured his party members that he would act in an impartial manner and adopt equal approach towards all.
After his arrival here on a one-day visit, as part of his campaign ahead of the presidential poll, Kovind addressed the BJD MLAs and MPs at the Odisha Assembly Conference hall here and sought support of all the members. The meeting lasted for about an hour, a legislator said.
Earlier, Kovind was welcomed by leaders of both the BJD and the BJP at the city airport on his arrival by a special flight. He, accompanied by Union minister J P Nadda, spent around an hour at Naveen Niwas, the chief minister's residence, for a luncheon meeting with Patnaik.
"I am very happy to be here. I am grateful for full-fledged support of the BJD led by Naveen Babuji," Kovind told reporters after the lunch.
The BJD has 117 MLAs in the 147-member Odisha Assembly and 28 MPs (20 in the Lok Sabha and eight in the Rajya Sabha). Kovind also met BJP MLAs and its lone MP at the outfit's legislature party leader K V Singhdeo's residence before leaving for New Delhi. BJP has 10 MLAs in the state Assembly.