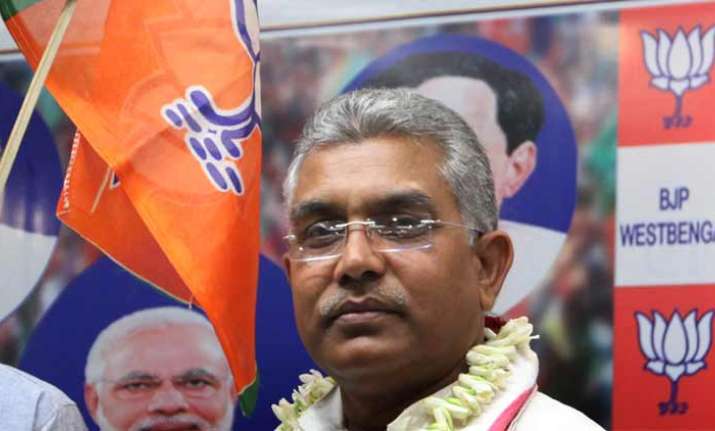 The West Bengal Police on Thursday registered a First Information Report (FIR) against state BJP chief Dilip Ghosh for wielding a sword during a Ram Navmi rally in his constituency Kharagpur of West Midnapore district.
According to the police, the FIR was lodged on the basis of complaints lodged by residents of Kharagpur in this regard.   
The FIR against the BJP chief was lodged  hours after Chief Minister Mamata Banerjee decried the armed rallies organised across the state by the Sangh Parivar on Ram Navmi and gave a stern warning that the law would take its course against political leaders who are trying to intimidate people by walking with arms.
"Some political leaders walked on the street with swords. They are trying to intimidate people. No matter who it is, appropriate actions would be taken against any political leader who rallied with arms. Law will take its course. Everyone is equal in this respect," Banerjee asserted at a public meeting in Purulia district.
Massive rallies were organised by the Rashtriya Swayamsevak Sangh (RSS) and its affiliates like HIndu Jagoran Mancha, across the eastern state on Wednesday in a never before grandiose Ram Navmi celebration, where thousands of Hindu activists including school children were seen walking on the road brandishing sticks and sharp weapons.
However, Ghosh seemed unfazed about the case against him.
Alleging that the state government was indulging in "vendetta politics", he pointed out that weapons were also displayed during the Muslim procession of Muharram.
Meanwhile, city police registered suo moto cases in three different city police stations against the organisers of armed rally on occasion of Ram Navmi.
A total of 39 rallies were organised by the Hindu activists in various parts of the city on Wednesday to celebrate the occasion.
"Suo moto cases have been lodged under various sections of IPC against the organisers of three of those rallies in the city on the charges of conducting unlawful assembly armed with deadly weapons (IPC 144), criminal intimidation (IPC 506) and promoting enmity between different groups on grounds of religion, race, place of birth, residence, language (IPC 153A)," said Joint Commissioner of Police (HQ) Supratim Sarkar.
"Cases has been lodged in Kolkata's Posta police station, Bhawanipore police station and Entally police stations against the organisers of unlawful rallies at TaraSundori park, Chakraberiya and Ramlila Maidan respectively. Law will take its course against the offenders," he added.
(With IANS inputs)