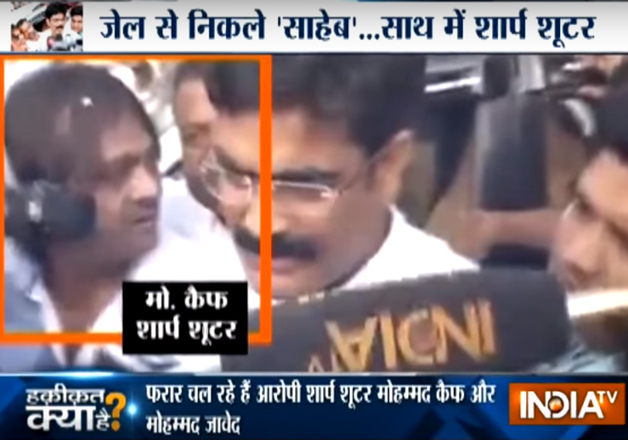 Right after mafia don-turned-politician and former RJD MP Mohammad Shahabuddin stepped out from Bhagalpur jail on bail on September 10, he was spotted with a wanted sharpshooter Mohammad Kaif standing by his side.
Kaif is one of the accused in the murder of a senior journalist Rajdev Ranjan in May this year and has been on the run ever since.
In a video footage from Saturday when Shahabuddin was interacting with media after his release from jail, Kaif was not only seen greeting him but also rode in the convoy of 300-odd cars that accompanied the former MP from Lalu Yadav's RJD, to his home in Siwan. 
Moreover, it has been reported that Mohammad Javed, another suspect in Rajdev Ranjan murder case, was also spotted with Shahabuddin in Bhagalpur on Saturday. 
Siwan Police today said it will serve notice and question Mohammad Shahabuddin in connection with two absconding suspects in the journalist Rajdeo Ranjan case being part of his carcade after his release from Bhagalpur jail.
"We have taken notice of photographs of suspect Mohammad Kaif and Mohammad Javed appearing in newspapers and video footage in the carcade of Shahabuddin from Bhagalpur to Siwan and hectic search is on for them," Siwan Superintendent of Police Saurav Kumar Sah told PTI.
Mohammad Javed and Mohammad Kaif are wanted in connection with conspiracy against Rajdeo Ranjan on May 9 and the two remained at large before being seen in the carcade of former RJD MP Mohammad Shahabuddin on way home from Bhagalpur on Saturday last.
The Siwan SP said a notice would be served to Shahabuddin in this connection and he would also be questioned about the two suspects.
Earlier, Laddan Mian, a close aide of Shahabuddin was arrested in Siwan in connection with the killing of the journalist in a busy market place in Siwan on May 20.
Sah said that security had been further tightened in the district.  
While addressing the media after his release from jail, Shahabuddin made it clear that he bears a grudge against Bihar Chief Minister Nitish Kumar. 
(With PTI inputs)