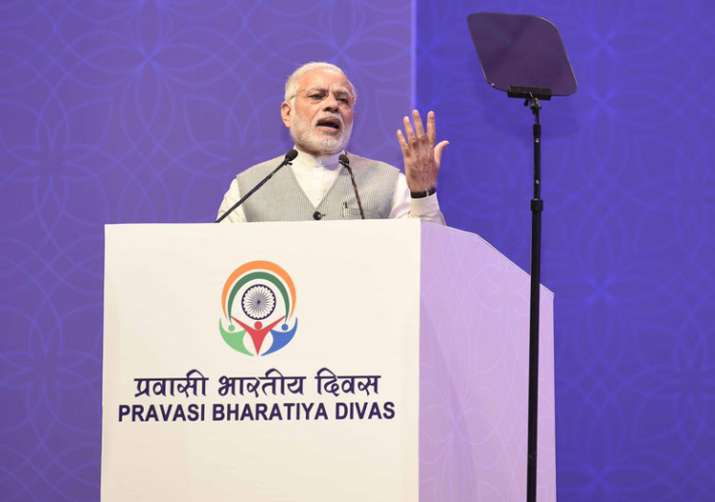 Prime Minister Narendra on Sunday thanked the Indian diaspora for supporting the government's demonetisation move, aimed at curbing black money.
"We have taken a big step to erase black money. I thank overseas Indian community for their support in fight against black money and corruption," PM Modi said at the 14th edition of the Pravasi Bharatiya Divas in Bengaluru.
Slamming opposition parties for criticising the move to scrap Rs 500 and Rs 1000 notes, Modi said, "It is unfortunate that some political worshippers of black money are showing our efforts as anti-people," he said; adding that the support extended by non-resident Indians in this step has been immense.
Modi said that the Indian diaspora is a valuable partner in India's journey of development.
"30 million Indians living abroad are valued not just for strength in numbers, but respected for contributions to India and the countries where they live," he said.
The PM also lauded the "invaluable contribution" made by overseas Indians to the Indian economy by sending close to 69 billion dollars in remittance.
"We want to turn 'brain-drain' into 'brain-gain' and your support in this is very important,"  he said.
Stressing that the government does not discriminate between its citizens living abroad, Modi said "we do not see the colour of the passport."
"Security of all Indians abroad is top priority. We don't see the colour of passports but our relationship bound by blood," Modi said at the 14th edition of the Pravasi Bharatiya Divas.
Praising External Affairs Minister Sushma Swaraj for her efforts to reach out to Indians living abroad, the Prime Minister said, "Sushma Swaraj has particularly been proactive and prompt in reaching out to distressed Indians abroad using social media."
Nearly 6,000 delegates from across the world are attending the three-day Pravasi Bharatiya Divas in the IT-capital.
The PBD was launched by the Vajpayee government in 2003 to step up India's engagement with its diaspora and the congregation of NRIs and Persons of India origins had continued as an annual event till 2015.
The Indian origin Prime Minister of Portugal Antonio Costa is the Chief Guest at the event while and 36-year-old Vice-President of Suriname Michael Ashwin Satyandre Adhin is the Special Guest at the Youth PBD.
The PM said his government will soon launch a skill development programme for young Indians seeking jobs abroad.
"We will shortly launch a skill development programme, the Pravasi Kaushal Vikas Yojana, targeted at Indian youth seeking overseas employment," the Prime Minister said.
Modi flashed a PIO (Person of Indian origin) card to say it supersedes the individual's passport -- as far as his ties to India are concerned.
When the PIO card is seen, "we don't see the colour of the passport but the blood ties", Modi said to huge applause.
Referring to Mahatma Gandhi's return from South Africa, Modi said this day marked the return to India of one of the greatest Pravasis and that his government's priority was to convert "brain drain" into brain gain".
"NRIs and PIO have made outstanding contributions. Among them are politicians of great stature, scientists of repute, outstanding doctors, brilliant educationists, economists, journalists, musicians, engineers, bankers and did I mention our well known technology professionals," Modi said.