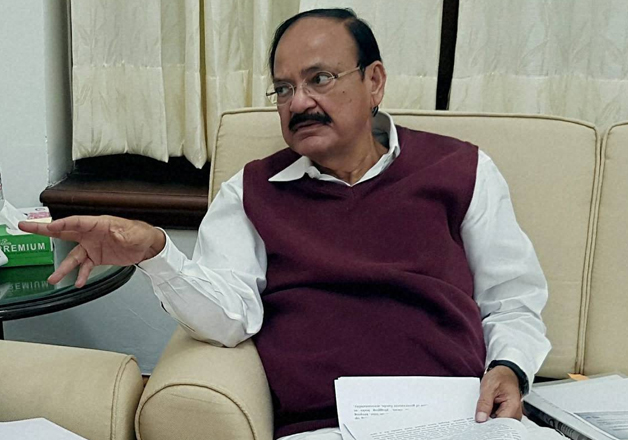 Hitting out at the opposition for observing a 'Black Day' to mark one month of demonetisation, Union Minister M Venkaiah Naidu today said that 'they were actually observing "Black Money Support Day'.
"Our opponents particularly the Congress, I am told that they are observing a Black Day. I say what they are observing is a 'Black Money Support Day'. Dharna by opposition parties near Gandhi statute in Parliament premises is a big 'tamasha' and an insult to the Father of Nation," Naidu said. 
Opposition parties are observing 'Black Day' today to mark completion of a month of the demonetisation announcement. 
As part of the protests, the opposition leaders held a dharna near Gandhi statue in the Parliament premises. 
The minister observed that praise has poured in from abroad as well on the demonetisation decision. 
"I don't understand why some people are observing black day. I can't understand," he added. 
While Congress leaders are gathering near the Gandhi statue in the Parliament, the party was "moving away" from the spirit of the Mahatma, he said. 
Not allowing Parliament to function only reflects "contempt" of democracy, he told reporters at a photo exhibition organised by photojournalists.
Meanwhile, Congress vice-president Rahul Gandhi made yet another stringent attack on Prime Minister Narendra Modi, terming the note ban decision as a 'foolish' one.
On PM Modi's promotion of cashless transaction through digital payment platforms, he said, "If I am allowed to speak in Lok Sabha, I will show to all how Paytm means 'Pay to Modi'."
Claiming that the Prime Minister had 'changed his narrative' on demonetisation, Rahul said, "Narendra Modi Modi started by saying the move was aimed against black money, then he shifted to terrorism, then to counterfeit currency and finally began to talk of a cashless economy."
Rahul also charged PM Modi of taking this decision without any due consideration.
(With PTI inputs)