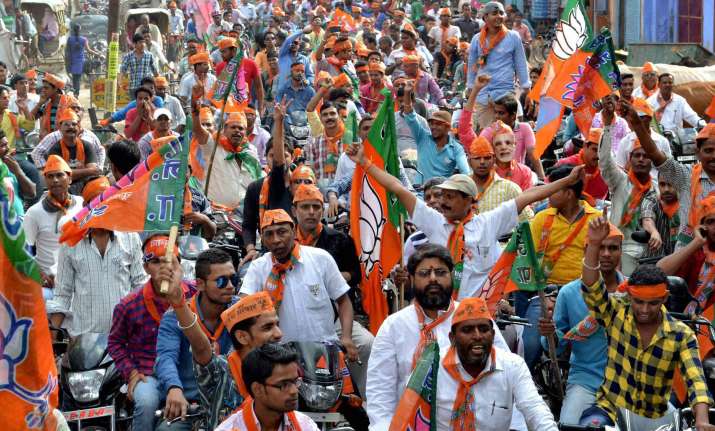 The BJP has stolen an early March over its rivals forging ahead in over 291 constituencies, leaving rivals SP-Congress combine and the BSP far behind going by trends available during the first three hours of counting. 
The nascent SP-Congress coalition was ahead in 68 of the total 403 seats in the state while Mayawati's party was leading in only 17 places. 
Home Minister Rajnath Singh's son Pankaj Singh was leading in Noida. 
Tainted minister Gayatri Prajapati, who is absconding after the UP Police booked him in an alleged gangrape case and attempt to rape a minor, was trailing in Amethi against BJP's Garima Singh. 
Garima Singh is the first wife of Congress leader Sanjay Sinh, and Congress candidate Ameeta Singh is his present wife. 
Kunda strongman and minsiter Rahguraj Pratap Singh alias Raja Bhaiya was ahead in his traditional seat. 
SP leader and senior UP minister Shivpal Yadav was leading in Jaswant Nagar (Etawah) by over 10,000 votes. 
Cabinet Minister and Muslim face of the SP, Azam Khan was leading from Rampur by over 10,000 votes. 
Three-tier security arrangements have been made to ensure security in and around the counting centres. 
The state saw polling on February 11 (73 seats), Feb 15 (67 seats), Feb 19 (69 seats), February 23 (52 seats), February 27 (52 seats), March 4 (49 seats) and March 8 (40 seats).
The poll percentage in the first phase was 64.22. It was 65.16 in the second phase, 61.16 in the third phase, 60.37 in the fourth phase, 57.37 in the fifth phase, 57 in the sixth phase and 60 in the last phase. 
A total of 78 counting centres have been set up in the state. In three districts of Amethi, Azamgarh and Kushinagar two counting centres each have been set up and in the remaining 72 district, counting will be held at one place. 
Additional CCTV cameras have been installed at vantage points from where the carrying of EVMs from strong rooms to the counting hall can be recorded for effective monitoring. 
Uttar Pradesh had witnessed seven-phase polling that started on February 11 and ended on March 8.
In the last two assembly elections, the voters of the state had given clear mandates. In 2012, the SP won 224 seats followed by the BSP (80) and the BJP (47). 
The Congress and the RLD, which had contested the Assembly elections together, bagged 28 and 9 seats respectively. 
In 2007, the BSP had emerged as the largest party with 206 seats followed by the SP which won 97 seats. The BJP had won 51 seats, while the RLD bagged 10 seats.