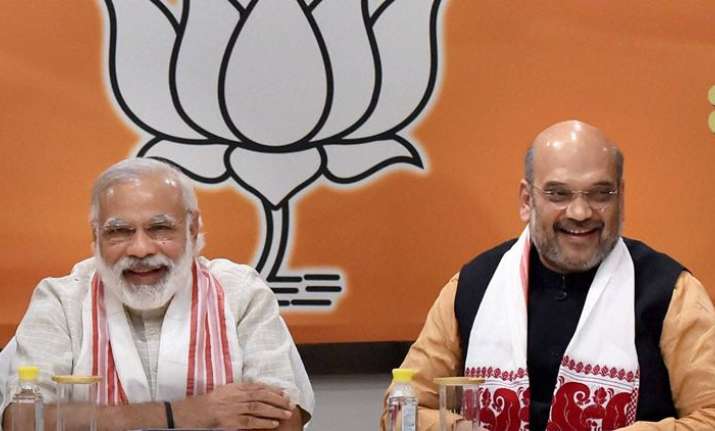 In a bid to counter the opposition's tirade and a mixed reaction from the public over the demonetisation drive, the Bharatiya Janata Party (BJP) is leaving no stone unturned for the upcoming elections in the crucial state of Uttar Pradesh.
According to party leaders, the BJP is launching what it has pegged as its biggest campaign in any state to take on the ruling Samajwadi Party government ahead of the upcoming Assembly elections.
The BJP has come up with 'Ab Aur Nahi Sahenge' (we will tolerate it no more) slogan and a 10-minute film titled 'UP ki kahani'. According to a report in the Economic Times, the saffron party has planned to erect more than 2,000 hoardings with the 'Ab Aur Nahi Sahenge' tagline across the state. 
Moreover, last week, it rolled out some 400 video vans to screen a 10-minute long film in all constituencies. 
The film features a young woman saying "Darr bana rehta hai" (the fear is always there) to lament the law and order situation in the state and features the sharp exchange between CM Akhilesh Yadav and uncle Shivpal Yadav on stage when the latter said, "CM jhooth bol rahe hain" (CM is lying). 
The video goes on to show party supremo Mulayam Singh Yadav saying on stage that "boys commit mistakes" like rapes. 
The preparations doesn't end here as the party is also releasing two songs, including one by Kailash Kher, in which he encourages people to tell BJP their 'Mann ki Baat' for their upcoming manifesto. 
It is also making arrangements to telecast live all campaign speeches made by PM Narendra Modi across the state. 

  

Meanwhile, the new slogan 'Ab Aur Nahi Sahenge' improves on the previous one 'So Rahi Sarkar'. 
To scale up the campaign, BJP last week placed 'Akansha Peti' at nearly 15,000 locations with high footfalls including private retail outlets and malls in leading cities, to get ideas from people about demands.