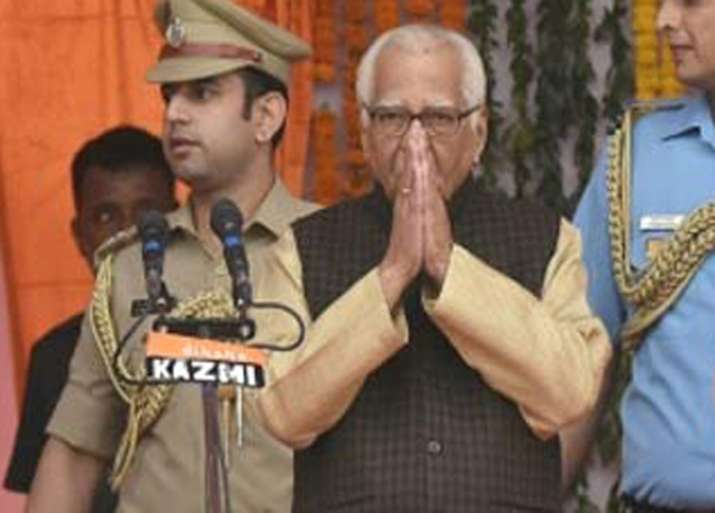 Outgoing Uttar Pradesh Assembly Speaker Mata Prasad Pandey's decision to recognise Samajwadi Party MLA Ram Govind Chaudhary as the Leader of Opposition has raised eyebrows in the Raj Bhavan with Governor Ram Naik holding that it was against established norms.
Citing certain Constitutional provisions, Naik wrote a letter to the new Assembly, urging the members to deliberate on the "democratic and Constitutional propriety" of the outgoing Speaker granting recognition to Chaudhary as LOP on his last day in office. 
As per traditions, only the Speaker of the new House can decide on the LOP in the new Assembly, a Raj Bhawan release quoted the Governor as saying. 
The letter also raised a question that why a tradition followed by all the states was not maintained here. 
It is also not clear in the notification issued in this regard yesterday as to "what constitutional void, crisis or 


unconstitutionality would have arisen" if the matter of LOP was left to the Speaker of the new house, the release said. 
Yesterday, a notification was issued by the secretariat of the Legislative Assembly regarding Chaudhary being made the LOP of the 17th Uttar Pradesh Assembly. 
Samajwadi Party president Akhilesh Yadav nominated Chaudhary as the Leader of the Opposition in UP Assembly by ignoring stalwarts like Azam Khan and Shivpal Yadav. Chaudhary was soon recognised as the LoP in the new assembly by Speaker Mata Prasad Pandey.
Both Pandey and Chaudhary belong to the Samajwadi Party and are considered close to its president Akhilesh Yadav.
70-year-old Chaudhary, an eight-time MLA, had served as basic education, child development and nutrition minister in the erstwhile SP 


government. 
The name of Azam Khan, the parliamentary affairs minister in the Akhilesh government, was also doing the rounds for the post. During the Mayawati government when Samajwadi Party was the main opposition party in UP, Shivpal Yadav was the Leader of Opposition. 
The Rashtriya Lok Dal (RLD) today charged the Samajwadi Party with acting under pressure from the BJP to deny senior leader Azam Khan the post of LoP. 
"The SP acted under pressure from the BJP to deny the post of LOP to a dynamic and strong leader like Azam Khan who could have posed problems for them in the legislature," RLD state unit chief Masood Ahmed said here. 
The RLD has just one MLA in the 403-member Assembly. 
(With PTI inputs)