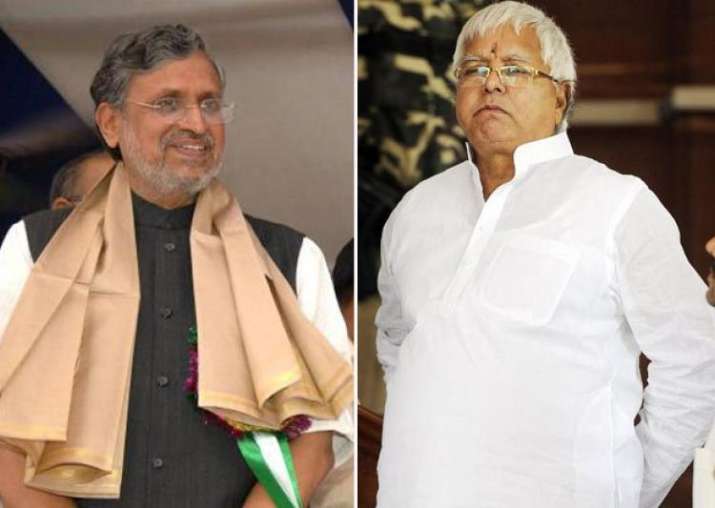 Bharatiya Janata Party (BJP) made a strong show in the Uttar Pradesh and Uttarakhand assembly elections sweeping away all other parties. On this occasion, BJP leader Sushil Kumar Modi thought of mocking RJD chief Lalu Prasad Yadav. 
He, however, wouldn't have thought of getting such a witty reply for the former Bihar chief minister. 
With BJP sweeping both Uttar Pradesh and Uttarakhand with a clear majority in the state assembly election, former deputy chief minister of Bihar Sushil Modi launched a snide attack on Lalu, who has been backing the Samajwadi Party-Congress alliance in UP. 
"Kya haal hai? (How are you doing now?)," Sushil Modi asked Lalu in a tweet on Saturday. 
@laluprasadrjd क्या हाल है ?

— Sushil Kumar Modi (@SushilModi) March 11, 2017
Lalu, who is known for his sense of humour and witty replies, quickly caught on to the meaning behind Modi's words and immediately delivered a well-aimed jibe. 
"I'm fine. Not letting you enter Uttar Pradesh has worked to the BJP's benefit," Lalu replied in his epic style. 
ठीक बा। देखा ना, बीजेपी ने तुम्हें यूपी में नहीं घुसने दिया तो फायदा हुआ। https://t.co/KBzqOjGdzM

— Lalu Prasad Yadav (@laluprasadrjd) March 11, 2017
The BJP is heading towards a comfortable win in both Uttar Pradesh, leading on 313 of the total 403 seats. The Samajwadi Party-Congress alliance, on the other hand, is leading over just 65 seats. The margin of trends is so high that reversal is almost unlikely.
This isn't the first time Sushil Modi has tried to mock Lalu Yadav. When the Samajwadi Party was going through the family feud, Sushil had taken a jibe at Lalu, saying he must be scared of his sons now. 
Lalu, on the other hand, has targeted Prime Minister Narendra Modi in the past and compared him to Jerome K Jerome's querulous character Uncle Podger from the book 'Three Men in a Boat'.