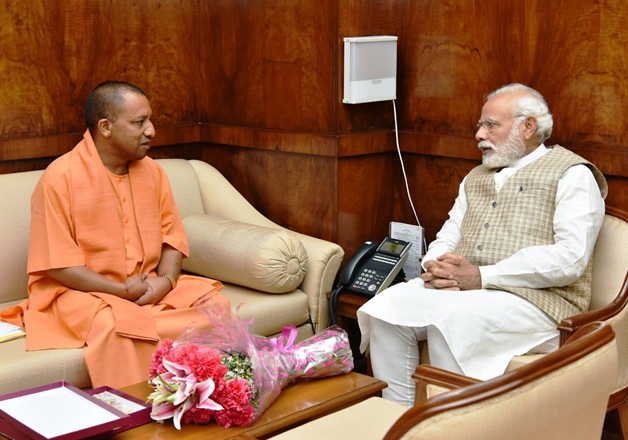 Newly elected Uttar Pradesh Chief Minister Yogi Adityanath today met several central leaders in New Delhi including Prime Minister Narendra Modi and discussed several issues related to the state. 
During the hour-long meeting with the Prime Minister at the Parliament House, the Chief Minister mostly discussed development-related issues. 
After meeting the PM, Yogi Adityanath didn't speak to the media and left for Home Minister Rajnath Singh's residence. The meeting between the two lasted for around 20 minutes. 
Uttar Pradesh Chief Minister Yogi Adityanath meets Prime Minister Narendra Modi. pic.twitter.com/hicV4rDnnv

— ANI (@ANI) March 21, 2017
Informed sources said that the Chief Minister briefed the Home Minister about various aspects of the state government, of which he was sworn in as head on Sunday.
Uttar Pradesh Chief Minister Yogi Adityanath met Union Home Minister Rajnath Singh in Delhi earlier today. pic.twitter.com/YCN20UsLZJ

— ANI (@ANI) March 21, 2017
Singh, himself a former CM of Uttar Pradesh, conveyed his best wishes to the new government and assured all help from the central government, official sources said. 
Earlier, he called on Finance Minister Arun Jaitley and BJP president Amit Shah.
Uttar Pradesh Chief Minister Yogi Adityanath meets Union Minister Arun Jaitley in Delhi. pic.twitter.com/6m43aAIQnc

— ANI (@ANI) March 21, 2017
It is believed that during his meeting with Shah, the CM discussed about the allocation of ministerial berths in the Council of Ministers.
उत्तर प्रदेश की जनता का हृदय से धन्यवाद । pic.twitter.com/GbAOi1H0JV

— Amit Shah (@AmitShah) March 21, 2017
Speaking to reporters earlier, UP Cabinet minister Siddhartha Nath Singh said that the portfolios of new ministers are likely to be announced 'very soon'. 
"The portfolios are being worked out. The process for allocation of departments is on and hopefully it will be done very soon," Singh said. 
The CM had this morning also marked his presence at the meeting of the BJP Parliamentary Board.
Later, speaking on the floor of the Lok Sabha, Yogi Adityanath took jibes at 'UP ke ladke' – (Congress vice president Rahul Gandhi and SP national president Akhilesh Yadav) as he compared his age with the duo.
The Chief Minister said that he will work to rid the state of corruption, communal riots and curb anti-social elements in the country's most populous state. 
"We will work to make the state free of corruption, rowdyism and hooliganism. We will present a development model which will prevent distress migration of youths for jobs," he said. 
He claimed credit for bringing about changes in Gorakhpur, which he admitted did not enjoy a positive image among people earlier. 
The CM also met President Pranab Mukherjee earlier in the day.
Before flying back to Lucknow, the CM called on senior BJP leader LK Advani at his residence. 
UP CM Yogi Adityanath meets LK Advani at his residence in Delhi. pic.twitter.com/LH9uyHn0gT

— ANI (@ANI) March 21, 2017
In another development, Fateh Bahadur Singh, the BJP MLA from Campiyarganj in Gorakhpur, has offered to resign from his seat to facilitate the election of Yogi from the said assembly constituency. 
Currently, Yogi Adityanath is the Gorakhpur MP and is not a member of either Houses of the UP Legislature. UP has a bicameral legislature.