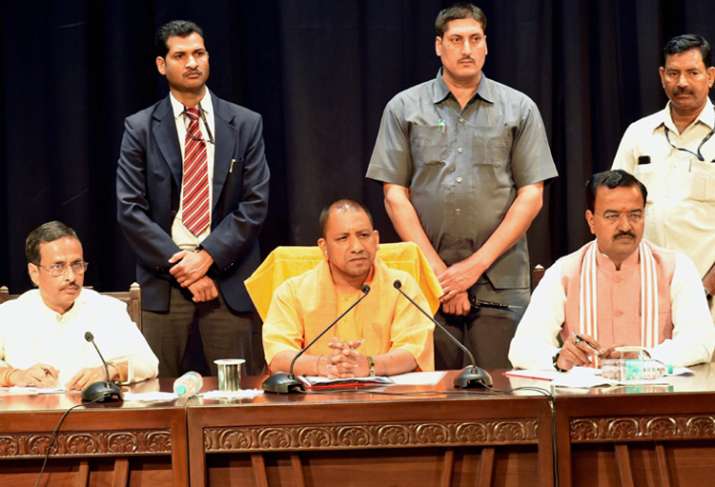 Three days after taking charge of the state, newly elected Chief Minister of Uttar Pradesh, Yogi Adityanath had on Wednesday allocated portfolios to his two deputies and 44 other ministers. 
The CM kept 36 departments, including home, mining, housing and civil supplies, with himself. His predecessor, Akhilesh Yadav, had kept 50 departments, including home, finance, mining and cooperative, with himself in his first portfolio allocation.
On Tuesday, he had met Prime Minister Narendra Modi and Bhartiya Janata Party (BJP) president Amit Shah in New Delhi to finalise the allocation of portfolios among the state ministers. 
Yogi took oath as 21st Chief Minister of the state on Sunday along with his two deputies and council of ministers. The Adityanath government has 25 cabinet ministers, nine ministers of state (independent charge) and 13 ministers of state. 
Here is the complete list of ministers and portfolios allotted to them:
Chief Minister
Yogi Adityanath: Home, Housing and Urban planning, Revenue, Food and Civil Supplies, Jail Administration, Appointment & Personnel, Election, Planning, Information, Institutional Finance, Estate and others 
Deputy Chief Ministers
1. Keshav Prasad Maurya: Public Works Department (PWD), Food Processing, Entertainment Tax, Public Enterprises Department
2. Dr. Dinesh Sharma: Secondary & Higher Education, Science & Technology, Information Technology & Electronics
Cabinet Ministers 
1. Surya Pratap Shahi: Agriculture, Agriculture Education & Research,   
2. Suresh Khanna: Parliamentary Affairs, Urban Development
3. Swami Prasad Maurya: Labour, Urban Employment & Poverty Alleviation
4. Satish Mahana: Industrial Development 
5. Rajesh Agarwal: Finance 
6. Rita Bahuguna Joshi: Women and Family Welfare, Women and Child Development and Tourism
7. Dara Singh Chauhan: Forest and Environment, Zoological Gardens
8. Dharmpal Singh: Irrigation 
9. S P Singh Baghel: Fisheries, Minor Irrigation and Animal Husbandry
10. Satyadev Pachauri: Khadi Gramodyog, Silk and Export Promotion
11. Ramapati Shastri: Social Welfare, SC/ST welfare
12. Jai Prakash Singh: Excise 
13. Om Prakash Rajbhar: Backward Castes, Handicap Welfare
14. Brajesh Pathak: Law and Justice, Political Pension, Renewable Energy
15. Laxmi Narayan Chaudhary: Milk Development, Religious Endowment Culture, Minority Welfare
16. Chetan Chauhan: Sports and Youth Welfare
17. Shrikant Sharma: Power
18. Rajendra Pratap Singh: Rural Engineering Department 
19. Siddharth Nath Singh: Health
20. Mukut Bihari Verma: Cooperative
21. Ashutosh Tandon: Technical and Medical Education
22. Nand Kumar Nandi: Stamp and Court Fees, Registration and Civil Aviation 
Ministers of State (Independent) 
1. Anupama Jaiswal: Basic Education, Revenue (MoS), Finance (MoS)
2. Suresh Rana: Cane and Sugar industries development, Industrial Development (MoS)
3. Upendra Tiwari: Land Development & Water Resources, Environment, Cooperative (MoS) 
4. Mahendra Singh: Rural Development, Health (MoS)
5. Swatantradev Singh: Transport, Energy (MoS)
6. Bhupendra Singh Choudhary: Panchayati Raj, PWD (MoS)
7. Dr. Dharam Singh Saini: Ayush, Rehabilitation  
8. Anil Rajbhar: Homeguards  ​
9. Swati Singh: NRI, Agriculture Marketing & Export, Flood Control, Women Welfare, Family Welfare
Minister of State
1. Gulabo Devi: Social Welfare, SC/ST welfare
2. Jay Prakash Nishad: Fisheries, Animal Husbandry, Estate 
3. Archana Pandey: Mining, Excise    
4. Jai Kumar Singh Jacky: Jail Administration
5. Atul Garg: Food and Civil Supplies  
6. Ranvendra Pratap Singh: Agriculture, Agriculture Education & Research,   
7. Neelkanth Tiwari: Law and Justice, Sports and Youth Welfare
8. Mohsin Raza: Science and Technology, Electronics, IT, Muslim Waqf and Haj
9. Girish Yadav: Urban Employment, Rehabilitation  
10. Baldev Olakh: Minority Welfare, Irrigation  
11. Mannu Kori: Labour
12. Sandeep Singh: Basic, Secondary, Higher, Technical and Medical Education  
13. Suresh Pasi: Housing, Industrial Training