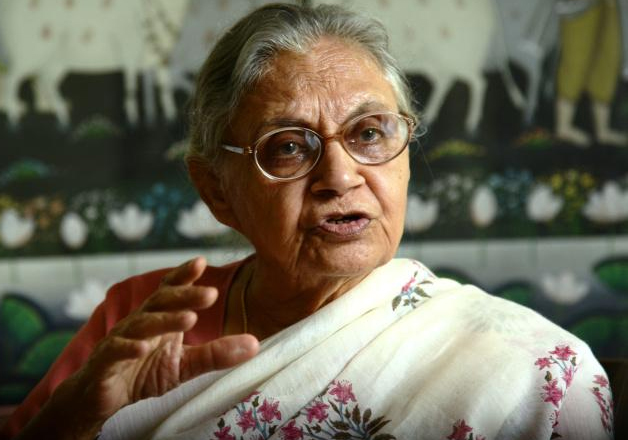 Congress party's chief ministerial candidate in Uttar Pradesh Sheila Dikshit has termed 'little surprising' meeting the meeting between party's election strategist Prashant Kishor and Samajwadi Party supremo Mulayam Singh Yadav.
While not ruling out the Congress joining a 'grand alliance' in Uttar Pradesh to stop the BJP from forming government, she on Monday said, "It did look a little surprising. I don't know what made him go for the meeting."
On November 1, Kishor had called on Mulayam, triggering speculations that the Congress and the Samajwadi Party may be mulling the idea of a 'grand alliance' to take on the BJP in next year's assembly elections. The meeting was also attended by Mulayam's confidant Amar Singh.
The Congress, the Janata Dal (United) and the Rashtriya Janata Dal (RJD) came together in Bihar and worsted a BJP-led alliance. In Bihar, however, the Samajwadi Party pulled out of the alliance at the eleventh hour, blaming the many seats given to the Congress.
The former Delhi chief minister for 15 long years also said she was not in a position to say if Kishor went as a Congress emissary.
Asked if the party was satisfied with his style of functioning, Dikshit said, "He is an advisor, a strategist. Whether we are happy with his work or not, only the Secretaries would know... I wouldn't know. A grand alliance is being spoken about, but I don't think anything concrete has yet been decided."
When asked about the possibility of an alliance in Uttar Pradesh, she replied, "It's not that there is no question. At the moment, it is not there. There is talk about it, but I think it is more in the news. Let's see what happens."
Senior leaders from the erstwhile Janata Parivar on Saturday called for unity at an event in Lucknow to mark 25 years of the Samajwadi Party. It was led by former Prime Minister H.D. Deve Gowda. Others present included former JD-U President Sharad Yadav, Rashtriya Lok Dal leader Ajit Singh and RJD supremo Lalu Prasad.
Dikshit said as of now no one from the Samajwadi Party had approached the Congress to discuss a possible alliance.
"Except that (Uttar Pradesh Chief Minister) Akhilesh (Yadav) did say that he has a lot of warmth for Rahul Gandhi, I don't think anything else (sent feelers from SP). Personally, if something has happened, I won't be able to tell," Dikshit said.
But she admitted that the current turmoil in the Samajwadi Party had tarnished the party's image.
Asked about her comments that Akhilesh Yadav was a "modern CM", she said: "These comments are not related to any alliance per se.
"There is nothing like a soft corner (for Akhilesh), it is a political requirement. If a person is doing a good job, we appreciate it. We should not read any political message in it.
"He is a young CM; there is no affinity. He belongs to a different political party and our thinking is very different," she added when asked if the Congress had an affinity towards him.
Dikshit said that Priyanka Gandhi Vadra had to take a decision on joining the election campaign in the state. "There is a huge demand for her, unprecedented demand, but she has to take the call."
Dikshit said the strategy behind projecting her as the Chief Ministerial candidate in Uttar Pradesh was her record as the Chief Minister of Delhi.
"Primarily, it is because of the work the Congress did in Delhi. That's for everybody to see. Also, I am a UPwala. I am married into a UP family. I lived there... started my political career there."
Asked if it was also to woo the Brahmin voters, she said: "I also happen to be a Brahmin." But she quickly added that the Congress was an "inclusive" party and did not look at things from a caste point of view.
How well is the Congress placed in the state whose three major players are the Samajwadi Party, the Bahujan Samaj Party and the Bharatiya Janata Party?
"It is improving," she said, but refused to predict the number of seats the party could win. "Our chances are improving and we are feeling more and more confident every day. The chances are good. We are very positive. People are looking at governance.
"We are trying to reach out to people and explain to them our style of governance," said Dikshit.
With IANS Inputs