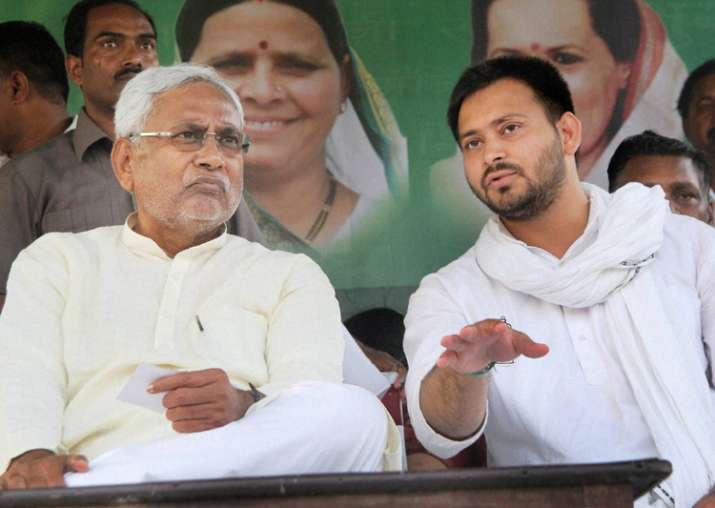 Unhappy over Deputy Chief Minister Tejaswi Yadav's clarification on corruption charges levelled against him, the Janata Dal (United) today once again dropped ample hints to RJD to clear the air on the matter immediately to end the 'prevailing negative sentiment' among the public that has been affecting the functioning of the government.
JD(U) spokesperson Neeraj Kumar told India TV that the RJD should come out with concrete facts in public on accusations against Tejaswi and that the party should understand the 'sentiments'.
"The FIR by CBI was filed on the basis of facts and proof. Everything is in the public domain. But doubt prevails over the reply that has come (from RJD). Understand the sentiments, not the words… Ishaara samajhiye (recognise the signal). Present the proof with facts. If you are unable to place the facts, tell us…," he said.
Without naming jailed RJD leader Mohammad Shahabuddin, the JD(U) spokesperson said that Lalu's party has shown unity in the case of the criminal-turned-politician and they hoped it would act similarly in the case against Tejashwi.
"Ever since the government was formed, the RJD has shown unity in the case of a Siwan leader. Our hope is still alive. We are hopeful that the RJD will understand the sentiments of the Janata Dal (United)," he added.
"You are a public representative. What else is required to say… Understand the signal. We are saying this publicly," he further said.
Tejaswi is at a centre of a row after his name was figured in an FIR registered by the CBI in a corruption case. The FIR also included the names of his parents Lalu and former CM Rabri Devi.
The BJP has been demanding the resignation of Tejaswi following the FIR and even questioned the integrity of Chief Minster Nitish Kumar over his stated stand of maintaining zero tolerance against corruption. 
Earlier this week, Nitish Kumar had chaired a crucial meeting of JD(U) MLAs, office bearers and district chiefs. Putting the ball in the court of RJD, the party in a terse message to Lalu asked his son to 'explain your defence against accusations in public with facts'. 
The RJD, on the other hand, has ruled out resignation of Tejaswi, inviting sharp criticism from the BJP which has now dared Nitish to sack Lalu's younger son from his Cabinet.