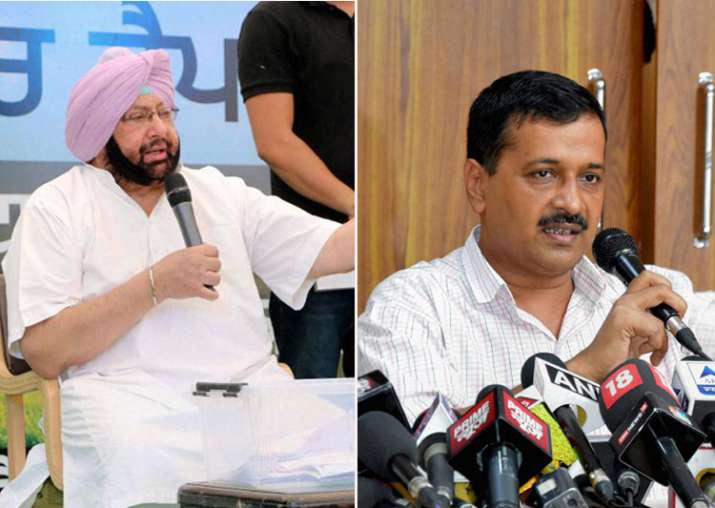 A virtual fight ensued between Delhi Chief Minister Arvind Kejriwal and Amarinder Singh today with both exchanging heated words after AAP chief accused Punjab Congress president of using an Akali leader's "drug money" to fund his election campaign in Punjab and the latter shot back, saying the AAP leader was "hallucinating" and challenged him to a debate. 
While Kejriwal accused Amarinder of using "drug money" of Akali leader Bikramjit Majithia and then asked why the BJP was out to defend him, the state Congress chief hit back, saying the Delhi CM would next claim US' Republican presidential candidate Donald Trump was conspiring with him (Amarinder) against the AAP leader. 
"Sir, ppl talking in Punjab that u using Majithia's drug money in ur campaign. Is it true? U had saved him from CBI enquiry 3 yrs back,"(sic) Kejriwal said in a tweet today. 
Majithia is Punjab's Revenue Minister and brother-in-law of deputy chief minister Sukhbir Singh Badal, whom AAP has accused of partonising the drug mafia, a charge rejected by him. 
Amarinder Singh responded, "When your hopes crash from 100 to 30 and still sliding, you're bound to hallucinate & see things that don't exist. You are day dreaming and watching stars during the day." 
He then challenged Delhi CM to a debate, which Kejriwal rejected and instead suggested a panel of AAP Punjab leaders for it. He, however, agreed to debate with Sonia Gandhi or Rahul Gandhi after he was accused of "hiding behind others" by Amarinder. 
"Now that you've shot your mouth, don't scoot like you typically do! Show courage and come for an open debate. Choose the time, place and platform," Amarinder wrote in the microblogging website. 
After Kejriwal said, "I accept ur challenge sir" and suggested names of H S Phoolka, Jarnail Singh, Bhagwant Mann or Gurpreet Ghuggi and asked the Congress leader to select the speaker, date, time and place of his choice, the former Punjab CM accused him of "hiding behind others". 
"Punjabis believe in leading from the front, not hiding behind others. Or have you already accepted that you can't face me for a public debate?," Amarinder said. 
Kejriwal hit back saying, "I am not hiding behind anyone sir. I am ready for a debate with Rahul ji or Sonia ji anytime. Our punjab team will debate wid u." 
The former Punjab chief minister shot back, accusing the AAP chief of "chickening out" and said that the one who hurls accusations at everyone is seeking to engage only with the Prime Minister or party presidents. 
"So you've chickened out! You're the 'Aam Aadmi' who levels allegations on everyone bt wud like to engage only with PM & Presidents of parties!" the former Punjab CM tweeted. 
With Kejriwal insisting that Amarinder debates with his Punjab team, he needled him saying, "But Sir, why is the entire BJP team defending you".
Amarinder's parting shots then silenced the twitter war.
"Morning you started with Majithia, now you're bringing in BJP, next you'll say Donald Trump is conspiring with me against you," he said on Twitter.
Amarinder had earlier said, "You and your shoot and scoot politics!! Tell us how many of those who you accused before elections have been put behind bars till now?.
"Country is increasingly sick of your theatrics just to grab headlines.
"Kejriwal better set his own house in order, before he sets his sights on Punjab," he said.
The AAP leader also said, "Sir, Badals closed corruption cases against u just a few months before elections. Why? Punjab asking what's the deal?."
The two leaders have been increasingly trading barbs on Twitter as the Assembly election approach.
Kejriwal has been alleging a "nexus" between Congress and the ruling Akalis in poll-bound Punjab. He has dubbed Singh their "joint chief ministerial candidate".
"Sir, Badals closed corruption cases against u just a few months before elections. Why? Punjab asking what's the deal?" Kejriwal had tweeted yesterday, responding to which Singh asked the AAP chief to "set his own house in order, before he sets his sights on Punjab".
Kejriwal was referring to Punjab Vigilance Bureau's clean chit to Singh over his alleged role in the Amritsar Improvement Trust land scam case.
(With PTI inputs)