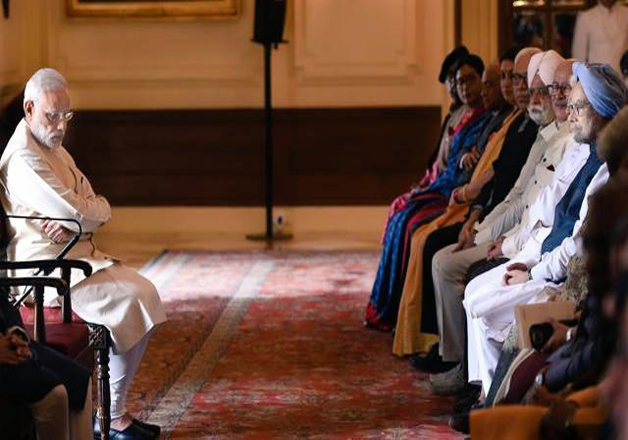 Twitter is one social media platform that has earned itself a reputation of coming out of with funniest of trolls.
If your day isn't turning out be interesting much, just scroll down Twitter and you'll have a fair number of laughs.
What strikes most about the micro-blogging website is that it doesn't shy away from applying its sense of humour on even the biggest of personalities.
On Friday, Prime Minister Narendra Modi went to the book launch of vice president Hamid Ansari. Another guest at the event was former PM Manmohan Singh.
One photo from the book launch has been at the centre of attention of the Twitterati ever since it surfaced. The photo has PM Modi sitting in front of a host of dignitaries including Manmohan Singh.
What triggered the funny side of Twitterati was PM Modi looking like as he was avoiding eye contact with those sitting in front of him.
Have a look at some of the best memes:
Parent teacher meeting pic.twitter.com/rO1IabWnQu

— Professor (@BeerOholic) September 24, 2016
😂😂😂 pic.twitter.com/CgEDGjcQPq

— Bad Company. (@RowdyTalks) September 24, 2016
"अकाउंटस में भी बस 85 लाए इस बार"? pic.twitter.com/1E5WK80tzk

— Smoking Skills (@SmokingSkills_) September 24, 2016
Ab theek hai !!! pic.twitter.com/KxkqmD8ycE

— Certified Kameena (@shubhansh1504) September 24, 2016
When you have to face the Board of Directors after making tall claims but failing to meet your sales targets. pic.twitter.com/6zomR9CNng

— MS (@connectwithms) September 24, 2016
When you get a tough movie name to express in Dumb-Charades. pic.twitter.com/4N2X67oijI

— Godman Chikna (@Madan_Chikna) September 24, 2016
"Attendance itna kam kyon aaya? College hi jaate the na?" pic.twitter.com/GZoUeoPUyP

— brahmin justin barber (@nirzary) September 24, 2016
Engineering Student On Viva pic.twitter.com/qMv2SRVjvR

— Mr. Smoker (@Mr_smokersingh) September 24, 2016
When you finally meet people you have been trolling online pic.twitter.com/pnH7xxOU3p

— dorku (@Dorkstar) September 24, 2016
खुद को शीशे में निहारते हुए मनमोहन सिंह जी 😂 pic.twitter.com/oOyDGrp3TY

— Rafale Gandhi (@RoflGandhi_) September 24, 2016