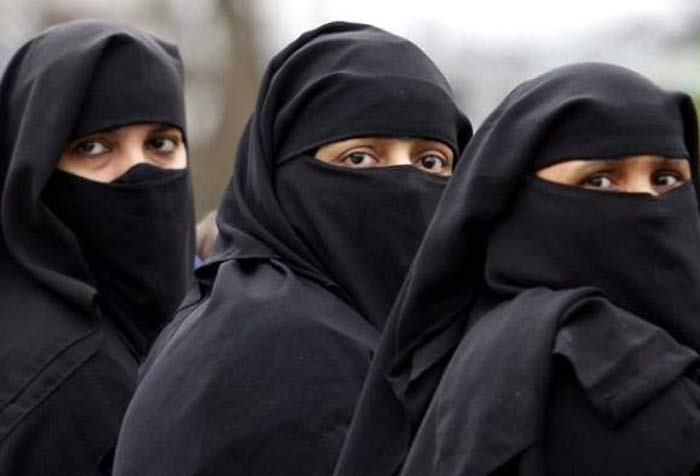 A group of Union ministers including Home Minister Rajnath Singh and Women and Child Development Minister Maneka Gandhi on Wednesday deliberated on the government's stand to be taken in the Supreme Court on the issue of Muslim practices of polygamy, triple talaq (talaq-e-bidat) and nikah halala.
Sources said no final decision has been taken by the Group of Ministers (GoM) and it will deliberate the issue further before finalising the government's stand to be taken in the apex court.
Finance Minister Arun Jaitley and Defence Minister Manohar Parrikar was also present in the meeting that lasted nearly an hour.
The development came after a Muslim woman, who was divorced by her husband through a phone call from Dubai, challenged the Muslim practices of polygamy, triple talaq (talaq-e-bidat) and nikah halala, leading the Supreme Court to seek response from the Centre on her plea.
On September 4, the Supreme Court granted four weeks time to the Centre to file its reply on a batch of petitions on triple talaq and the plight of Muslim women.
Talaq-e–bidat is a Muslim man divorcing his wife by pronouncing more than one talaq in a single 'tuhr' (the period between two menstruations), or in a tuhr after coitus, or pronouncing an irrevocable instantaneous divorce at one go (unilateral triple talaq).
Nikah halala refers to the marriage of a woman with another man who subsequently divorces her so that her previous husband can remarry her.
While dealing with the plea of the 26-year-old woman from Kolkata whose husband divorced her by saying talaq thrice over telephone from Dubai, a bench comprising Chief Justice T S Thakur and Justices A M Khanwilkar and D Y Chandrachud, had issued notice to the Ministry of Minority Affairs and others.
Petitioner Ishrat Jahan has sought a declaration from the court that Section 2 of Muslim Personal Law (Shariat) Application Act, 1937 was unconstitutional as it violated fundamental rights guaranteed under Articles 14 (equality), 15 (non-discrimination), 21 (life) and 25 (religion) of the Constitution "in so far as it seeks to recognise and validate talaq-e-bidat (triple talaq) as a valid form of divorce".
"My husband and his relatives are constantly attempting to drive me out of my matrimonial home," Jahan had said, adding that her four children were also forcibly taken away from her.
"The petitioner does not have any support as her parents are residing in Bihar. She is surviving with her sister's help. The police are also not making any effort to trace her children," the petition said while seeking urgent directions from the court for her and her children's protection.
On September 2, All India Muslim Personal Law Board (AIMPLB) told the Supreme Court that personal laws of a community cannot be "re-written" in the name of social reforms and opposed pleas on issues including alleged gender discrimination faced by Muslim women in divorce cases.
The AIMPLB, in its counter affidavit filed in the apex court, had said the contentious issue relating to Muslim practices of polygamy, triple talaq (talaq-e-bidat) and nikah halala are matters of "legislative policy" and cannot be interfered with.
The board also said that practices provided by Muslim Personal Law on the issues of marriage, divorce and maintenance were based on holy scripture Al-Quran and "courts cannot supplant its own interpretations over the text of scriptures".
Regarding polygamy, the board's affidavit said though Islam permitted it, but it does not encourage the same and referred to various reports, including World Development Report 1991, which had said that polygamy percentage in tribals, Buddhists and Hindus were 15.25, 7.97 and 5.80 per cent respectively as compared to 5.73 per cent in Muslims.
AIMPLB and Jamiat-e-Ulema had defended triple talaq and said it was part of Quran-dictated personal law which was beyond the ambit of judicial scrutiny.
The board had said though it was the "least appreciated" form of terminating a marriage, yet it was "very much effective" and in line with the Sharia law.
It further said that since part III of the Constitution does not touch upon personal laws of the parties, the apex court cannot examine the question of constitutional validity of practices of marriage, divorce and maintenance in Muslim personal law.
The board also said all the sources of Muslim personal law have been approved and endorsed by Holy Quran.