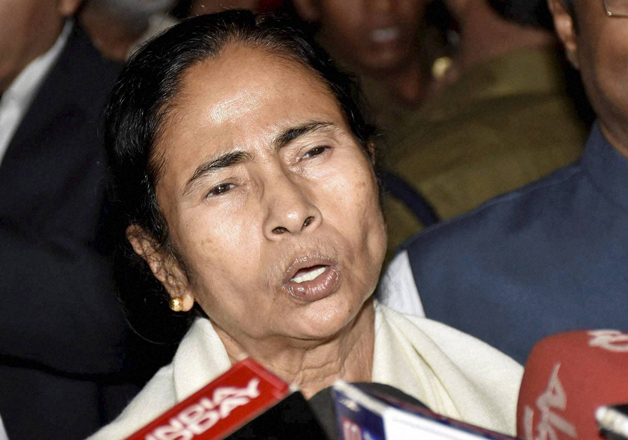 An aircraft carrying 170 passengers including West Bengal Chief Minister Mamata Banerjee was forced to seek emergency landing when it ran short on fuel after being made to hover in the night sky for about 40 minutes on Wednesday due to a technical issue.
The Trinamool Congress smelt in the incident a conspiracy to "kill" Banerjee for protesting strongly against the Central government's demonetisation initiative.
The plane operated by a private airline took off from Patna an hour late at 7.35 p.m.
Due to technical reasons, before landing at the Netaji Subhas Chandra Bose International Airport here, it hovered over the Kolkata sky and then finally landed around 9 p.m. 
Airport officials said such developments were normal and an every day affair in aviation.
But State Urban Development Minister Firhad Hakim alleged that the Air Traffic Control delayed in giving the green signal to the plane to land despite the "pilot pointing out that it was running out of fuel".
"This seriously inconvenienced our Chief Minister and other passengers. It is nothing but a conspiracy to kill her as she is going round the entire country to build up a mass movement against demonetisation and is one of the foremost protesters against the central move," said Hakim, who accompanied Banerjee in the flight.
Meanwhile, IndiGo has clarified that the aircraft was never low on fuel and that the emergency landing was declared due to 'misinterpretation by the ATC'. 
"This is to inform that IndiGo flight 6E 342 from Patna and Kolkata made a normal landing at the Kolkata airport on Wednesday. The flight was kept on hold for landing due air traffic congestion at Kolkata. The pilot operating 6E-342 had advised the ATC that he has 8 mins of extra holding fuel over Kolkata (Destination) before commencing diversion to the planned alternate. However, this information was misunderstood by the Air Traffic Controller who assumed that the aircraft had only 8 mins of total fuel left. The misinterpretation of the information by ATC controller led ATC to instruct fire engines and ambulances to be stationed at Kolkata airport. We would like to clarify – IndiGo Captain at no stage declared a fuel priority or an emergency," the airline said in a statement.
"Subsequently, the airplane made a normal landing at Kolkata airport at 8 40 PM (delayed by an hour due to congestion). The fuel on arrival was more than the minimum diversion fuel. There has been no violation or breech of any regulatory requirement in the above mentioned scenario," the statement added.