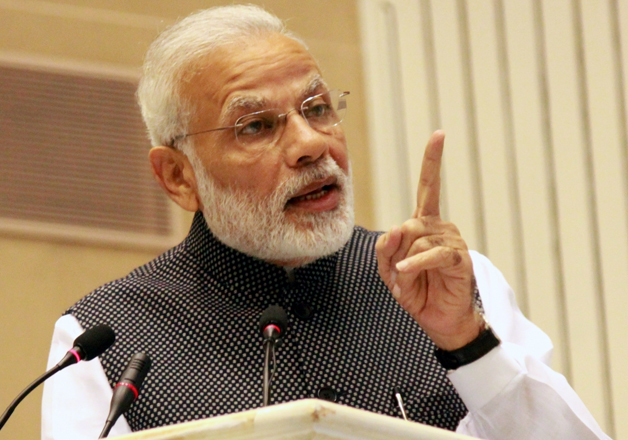 As the opposition parties united in Parliament to corner the government over demonetisation, Prime Minister Narendra Modi today asked BJP MPs to extensively publicise the benefits of the 'historic' exercise and steps taken for mitigation of their problems. 
Sources said that the BJP MPs have been asked to interact with people and the media to disseminate information about the positive impact of the move and also assuage public concern caused by waiting in long queues outside banks and ATMs to exchange old notes and withdraw money. 
BJP allies have also been roped in, they said.
Sources also said that party has decided to field its MPs to blunt the attack. MPs of BJP and allied parties have been provided a compilation of the RBI and Finance Ministry's communications on demonetisation so that they could use the information contained in them to tell the people about relaxations announced by the government for farmers or families having marriages.
The party is working overtime to dispel any negative publicity especially in poll-bound states like UP, sources said.
Even 10 days after PM Modi took the nation by surprise by announcing demonetisation of Rs 500 and Rs 1,000 currency notes, his rivals continued to aggressively target him, refusing to put their knives back into the sheath. 
The Congress-led opposition today stalled the proceedings in both the Houses of Parliament over the issue for the second day in a row.
While the Lok Sabha was adjourned for the day without transacting any legislative business following continued uproar, the Rajya Sabha witnessed repeated disruptions before being adjourned for the day at 3 PM. 
Both houses will now reconvene on Monday, where the scenes are expected to be no different.
Cong dares PM Modi to debate; demands JPC probe
The Congress party has challenged the Prime Minister to a debate with the opposition on the issue and accused him of shying away from Parliament when it was deliberating on the issue to avoid 'facing the truth'. 
On a day the demonetisation issue rocked both the Houses of Parliament, scores of Youth Congress workers held a march, alleging withdrawal of high-value notes was part of a 'big scam' and aimed at looting public money. 
Addressing the protesters, senior party leader and deputy leader of opposition in the Upper House, Anand Sharma charged the government with committing 'injustice' to the country and 'spoiling' country's image globally by implementing the decision without 'preparation'. 
He demanded that a Joint Parliamentary Committee be appointed to probe the alleged leak of information about the impending decision to demonetise the high-value notes. 
"A debate is on in the Parliament and there is a deadlock. Opposition has demanded that Prime Minister listen to us and explain his move. They (ruling party) say Narendra Modi is in Parliament premises but will not come to the House. What is this," Sharma said. 
"We will not allow him to pile up miseries on the common citizens. It is such a big scam and loot of public money. We have demanded a Joint Parliamentary Committee to probe it. Our fight will continue till the government relents and demand for probe is met," Sharma added.
This is unacceptable, says Sitaram Yechury
Continuing his tirade against the government over demonetisation, CPI(M) general secretary Sitaram Yechury said that the Prime Minister cannot decide the way people of the country live and warned of widespread protest against the 'unacceptable' step.
"Under our Constitution, the people are supreme. The Constitution begins with 'we the people'. The Prime Minister cannot decide the way people lead their lives. This is unacceptable...there will be widespread protests against this measure," a party statement quoted Yechury as saying.
Addressing a day-long dharna organised by the Left Democratic Front Thiruvananthapuram against the Centre's action, Yechury alleged that state governments suffered huge revenue losses in the wake of demonetisation of Rs 1,000 and Rs 500 notes.
He asked the Centre to allow use of scrapped currency notes till adequate fresh bills were made available. 
Yechury said the CPI(M) would take initiative to launch a countrywide agitation with other Opposition parties to put pressure on the Centre to make proper arrangements to end the 'anarchy' in the country and the economic system caused by demonetisation.
Govt very insensitive: Delhi CM 
A day after Finance Minister Arun Jaitley ruled out rolling back demonetisation, Delhi Chief Minister Arvind Kejriwal said the decision taken by a government that has 'lost connect' with people smacked of 'insensitivity'.
"I am very sad that FM has plainly refused to even review and consider rollback. Modi govt has lost connect with people and has become very insensitive," Kejriwal tweeted.
He also accused the 'Modi bhakts' (devotees of Modi) of 'thuggery' and asked people to 'shut them up'.
"Modi bhakts are resorting to thuggery in the open. They indulge in sloganeering in Modi's name. Don't be scared of them. Reply and shut them up," Kejriwal, who along with his West Bengal counterpart Mamata Banerjee had demanded a roll back of the decision, said in a series of tweets.
Mamata Banerjee ups ante against govt
Banerjee, who had joined Kejriwal at a rally against demonetisation in the national capital on Thursday and also demonstrated in front of the RBI office there yesterday, accused the Modi government of making 'actionless announcements' and said it should allow the old Rs 500 notes to remain in circulation along with new bills to help the common people.
The government should allow old Rs 500 notes to remain in circulation along with new notes. Also Rs 100, Rs 50, Rs 10 notes must be made easily available.
"The Rs 1,000 notes may be withdrawn when circulation improves by December 30, or at your discretion," she said in a statement in Kolkata, adding there was no need for anymore 'faltu (absurd), action-less announcements. Sometimes blunders lead to more blunders'.
Farms facing 'govt-made crisis': Akhilesh 
Chief Minister of poll-bound Uttar Pradesh Akhilesh Yadav criticised the Centre for 'foisting a crisis' on farmers, who have been at the receiving end of nature's wrath for several consecutive years.
He said the state's farmers, who hoped that this time around they will make up for the losses of past years, have been forced to face not a natural calamity but a 'government-made crisis'.
Former Union Minister and senior RJD leader Raghubansh Prasad Singh took up a 'kudal' (hoe) and tilled his farm at his native Shahpur village in Bihar's Vaishali district and complained about unavailability of labourers following demonetisation.
"Labourers have vanished after demonetisation decision and that is why I am forced to take up the kudal myself to toil in the field. Farming cannot wait for the PM to improve the situation and that is why I am working on my field," Singh, the RJD national vice president, told reporters.
Meanwhile, the government has once again rejected opposition's demand for PM Modi's response to the debate on demonetisation and accused them of using it as an excuse to scuttle discussion.