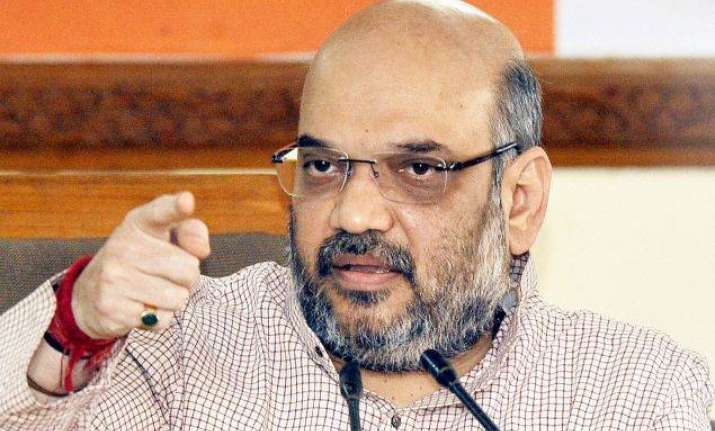 New Delhi: The raging row over nationalism took centerstage at the BJP National Executive meet on Saturday with party chief saying denigration of the nation will not be acceptable under any circumstance and there should be no dispute over slogans like 'Bharat Mata ki jai'.
Shah asserted that it will not tolerate criticism against the country and that freedom of expression cannot be a plea for shouting anti-national slogans.
Shah attacked Congress, saying its main focus was to ensure that the Modi dispensation does not perform, as he hailed the government for providing "corruption-free governance" and "dynasty-free leadership and giving stability and hope to people".
Hitting out at the Left and Congress for their criticism of the government over freedom of expression, he said that "supporters" of Maoism and Stalin were talking about it and recalled the Emergency excesses to target the main opposition party.
Briefing reporters after Shah spoke, Union Minister Ravi Shankar Prasad said the BJP president also spoke in detail about the various "pro-people" measures of the government, especially the budget, which he claimed to be a "game-changer" in national politics.
It was, however, the contentious political debate over issues, which BJP has linked to its pet theme of nationalism, that was the key component of Shah's speech as he sought to slam Congress over its vice president Rahul Gandhi's "justification" of anti-national slogan- shouting in the JNU.
"In JNU, slogans were raised to destroy India. Rahul Gandhi went there and said nothing about these slogans but instead tried to justify them on the ground of freedom of expression.
"BJP welcomes any criticism of the party, person or government, but it will not tolerate criticism of the country. While BJP fully respects freedom of expression, patently anti-national activity cannot be justified on the plea of freedom of expression. It is plainly not acceptable," Shah said.
On the row over 'Bharat mata ki jai', he said a large number of people sacrificed their lives shouting this slogan, which is older than BJP and RSS. It was unfortunate that a controversy over it had occured so many years after independence, he added.
He had receny said 99 per cent of people are in support of raising the slogan and his party will convince the remainder.
Drawing comparison with Congress over the freedom of expression issue, Shah said BJP did not "oppose" those who ran a campaign of "calumny and baseless charges" against Prime Minister Narendra Modi for years and highlighted suppression of media during the Emergency to attack the opposition party.
The BJP chief accused Congress of obstructing the passage of GST Bill for "political reasons and its arrogance" and took on Rahul Gandhi over him questioning the government's work.
While scams of Rs 12 lakh crore occured during UPA rule, honesty and transparency are the pillars of the BJP-led NDA government which is committed to the welfare of poor and farmers, Prasad said quoting the BJP chief.
To ensure that the government could not work, Congress has been levelling baseless allegations against it, he said. He exhorted party leaders and workers to carry to the masses government's successes and counter Congress's "unfounded allegations".
In Modi, BJP has the "most popular global leader", Shah claimed, adding that Congress and Rahul Gandhi were obsessed with "negative mindset" but they will not able to stop the party and government from working for the country's progress.
"Our aim should be that the party comes to power in 2019 Lok Sabha elections with a bigger majority," he said, according to a party statement.
Modi's "popularity" is propelling the country's strong foreign policy and trade and prosperity are at its centre. He also spoke about attack on party workers in poll-bound states of Kerala and West Bengal and asserted that such "repression" will not work.
The party will fight the coming elections to five states "strongly" and emerge as a bigger force.
Shah asked the party workers to campaign across the country against the shouting of anti-national slogans and asserted that 'Bharat mata ki jai' chant has been a source of inspiration to BJP all these years.
He also spoke about the OROP scheme brought in by the Modi government, saying it showed the party's commitment to the welfare of soldiers.
"Today, our soldiers do not need any permission to take on any attack on them from across the border. Every inch of the country's land will be protected but we will continue with our peace efforts," he said, in an obvious reference to the government's Pakistan policy, according to a statement issued by the party later.
Noting that the party had made 11 crore members, he said they should now be made active members.
Noting that 350th birth anniversary of Guru Gobind Singh and 125th birth anniversary of Bhim Rao Ambedkar are approaching, he asked party workers to spread their message to the masses.
While Singh's sacrifices are exemplary, Ambedkar along with Sardar Patel were most responsible for the creation of post independence India, he said.
(PTI)