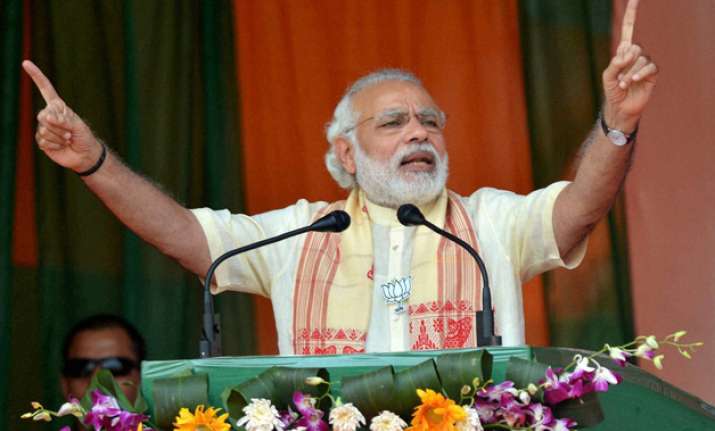 Rangapara (Assam): Prime Minister Narendra Modi today came down heavily on the Congress regime in Assam alleging that the ruling party in the state has betrayed the people and their aspirations in the last 15 years.
Highlighting his agenda of development, Modi said that 'there is a strong wind of change in Assam' which will uproot the Congress and its 15 years of misrule.
"Why has this place not received the development it deserves? Who has made Assam poor? For 15 years, the people reposed faith in them but they betrayed the people and their aspirations," he said while addressing an election rally at Rangapara in Sonitpur district.
Prime Minister Modi assured the voters that the BJP would repay their love with development in Assam. He also used the occasion to take a jibe at former prime minister Manmohan Singh, who represents the state in Rajya Sabha.
"Fifteen years in Assam, 60 years at the Centre and a PM from here for a decade... But please tell us what you (Congress) did for Assam? Lack of good governance in Assam for 15 years will end and there'll be a new dawn of progress in Assam," he said.
The Prime Minister further said that he was in Assam to fight corruption and poverty and not Chief Minister Tarun Gogoi.
Reaching out to the voters of Assam, the Prime Minister said it is his dream that all citizens have a house of their own by 2022.
"Why the poor did not have access to banks?...The Centre gave money to the Assam Government to build houses for poor but only one-third of that money was used," he said.
Stating that there are over one crore people in Assam living below the poverty line, Modi said this poverty is a gift from those who have been in power for 60 years.
"We want to change Assam. Education for children, income for youth and medicine for elderly is our motto and this is alone enough to change the living standards of people of Assam," he said.
The Prime Minister said his dream is to provide a house to every poor man in the country by 2022.
"I know it's a big work but my country is also a big one. We sent money to Gogoiji for making houses for the poor. He assured me to work but you'll be shocked to know that only one-third of the amount given by Centre is utilised so far and the rest has been rotting in banks."
"If there is a will, change can be brought about. After our government came to power in Delhi, the Centre has spent so much money in eastern region of India for spreading the rail network which no government had spent after Independence," he said.
"I am happy that 510 km of broad gauge rail connectivity have been completed on north bank of Brahmaputra," Modi said.
The Election Commission has announced two-phase polling for the 14th Assam assembly elections on April 4 and 11. The votes will be counted on May 19.