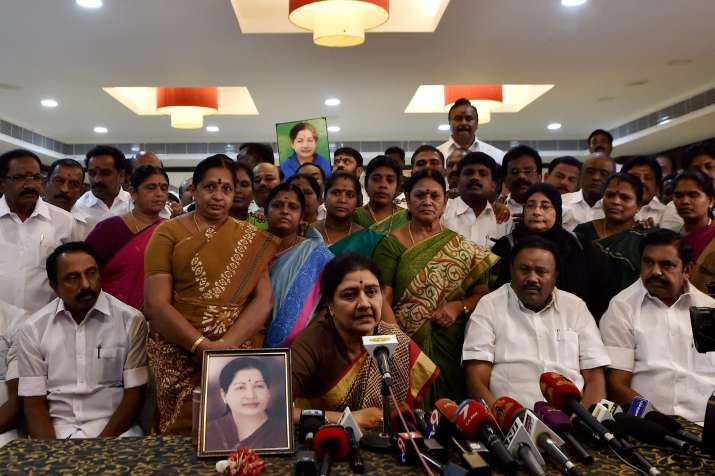 In a massive show of strength, AIADMK supremo and Tamil Nadu CM-designate VK Sasikala today addressed party workers outside Poes Garden here where she came down heavily on caretaker CM O Panneerselvam, calling him a 'traitor' after he refused to back her nomination for the top post. 
"After the demise of Amma (J Jayalalithaa), when I asked him to over the take over the reins of the state, he and others insisted me to take the CM's post. I refused to accept their proposal because I was not hungry for power," she said. 
Sasikala, also known as 'Chinamma', blamed the opposition DMK for all political mess in the state. 
"In last few days, he (OPS), at the behest of opposition DMK hatched conspiracy to derail the party. It was only at that time I decided to take the charge of Amma's party and the government as well and save both," she added. 
"I have faced thousands of people like Panneerselvam in last 33 years with Amma. No one can dare to threaten or bully me. This party will form government again. I will save this party even if I have to give my life. I will work so hard for this party that AIADMK will emerge victorious next time, enabling us to form the government for the record third time," she opined further.  
Crisis in Tamil Nadu begun last week when OPS visited Jayalalithaa's memorial and claimed that he was forced to resign from the CM post, paving way for Sasikala's anointment. Sasikala was on February 5 declared as the AIADMK legislature party leader. At that time, it was said that OPS had moved the proposal to declare Sasikala as the CM candidate.  
Meanwhile, amid the intense battle for power, Panneerselvam today arrived at the state Secretariat where he was expected to hold talks with senior officials. This was Panneerselvam's first visit to the Secretariat after his resignation on February 5 and being asked by Governor Vidyasagar Rao to continue till alternative arrangements are made.  
Panneerselvam, who had revolted against Sasikala and sought to thwart her bid to become the Chief Minister, disagreed with a suggestion that the administration in the state has come to a standstill due to the ongoing political crisis. 
Incidentally, DMK Working President and Leader of Opposition in the Assembly MK Stalin also arrived at the Secretariat ahead of Panneerselvam, sparking speculation about a possible meeting between them.  
Panneerselvam, who has alleged that he was forced to resign, is maintaining that he will prove his majority in the floor of Assembly.
On the other hand, police today submitted a report to the Madras High Court after recording the statements the MLAs who are allegedly held 'captive' at a resort near here. 
Police, according to reports, claimed that 119 MLAs are living at the resort and none of them have complained that they are being held hostage by the Sasikala camp.
The MLAs, who are backing Sasikala's candidature, are staying in Golden Beach Resort at Koovathur. Sasikala had on last Friday met the Governor and staked claim to form government.