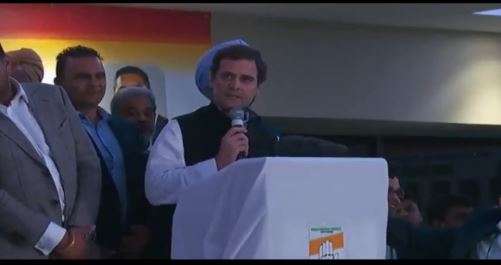 Congress president Rahul Gandhi on Sunday said that Prime Minister Narendra Modi insulted every Indian by saying that nothing had happened in the last 70 years.
"When PM Modi says nothing happened before he became a Prime Minister, he insults every Indian's forefathers who toiled hard to build this country," he said while addressing the Indian Overseas Congress in London.
He also alleged that after Modi government assumed power, people are discriminated against on the basis of caste and religion. 
"Today in India, people are discriminated on the basis of their caste and religion. Marginalised are betrayed while people like Anil Ambani benefit," Gandhi said.
Congress president also attacked the BJP government and industrialist Anil Ambani on the Rafale deal. 
"HAL has been manufacturing aircraft for last 50 years, but Rafale deal was given to someone who floated his company just 19 days before the deal," he alleged.
It is pertinent to mention here that Congress party has been attacking the government over Rafale deal. The opposition party has alleged that the government has inked the deal at a much higher price than the one the previous UPA regime had negotiated. 
He also alleged that institutions like the Supreme Court, Election Commission, Reserve Bank of India are being torn apart now, under the present government.
"Supreme Court, EC, RBI are the walls of our country, they're being torn apart now," he said.
Once again raising the job issue Gandhi said China creates 50,000 jobs a day, while India creates only 450.
He also questioned PM Modi's silence on the Unnao rape case, as well as on absconding diamantaire Nirav Modi, a key accused in the multi-million dollar Punjab National Bank (PNB) scam.
WATCH VIDEO: Rahul Gandhi continue his stand on Muslim Brotherhood remark, attack BJP on Rafale deal