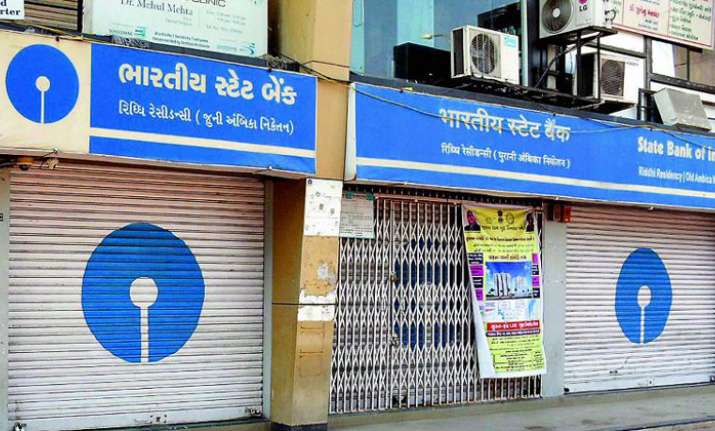 The State Bank of India (SBI) today merged its operations with five of its associates and the Bharatiya Mahila Bank, making the country's largest lender one of the top 50 banks in the world.
State Bank of Bikaner and Jaipur (SBBJ), State Bank of Hyderabad (SBH), State Bank of Mysore (SBM), State Bank of Patiala (SBP) and State Bank of Travancore (SBT), besides Bharatiya Mahila Bank (BMB), merged with SBI with effect from April 1, the bank said in a statement. 
"With this six-way mega merger, SBI has again displayed its ability to change and evolve in order to continue as the country champion among banks in India and to create enduring value," SBI said. 
Post-merger, all the customers of associate banks now enjoy the benefits of a wide array of digital products and services offered by the State Bank of India, the bank said.
With this merger, the bank will join the league of top 50 banks globally in terms of assets, it added. 
Online SBI, the bank's web banking platform, is the fifth-most visited financial site globally.
Welcoming all the stakeholders of merged entities, SBI Chairman Arundhati Bhattacharya said the bank will strive to conclude the transition process within a quarter. 
"We welcome the customers, employees and all other stakeholders of associate banks and Bharatiya Mahila Bank to SBI fold. The bank will strive to conclude the transition process within a quarter," Bhattacharya said here in a statement on Saturday.
"The combined entity will enhance the productivity, mitigate geographical risks, increase operational efficiency and drive synergies across multiple dimensions while ensuring increased levels of customer delight," she said. 
Post merger, the bank will rationalise its branch network by relocating some of the branches to maximise reach. This will help the bank optimise its operations and improve profitability, she said. 
Integration of treasuries of the associate banks with thetreasury of SBI will bring in substantial cost saving and synergy in treasury operations, she added. 
The total customer base of the bank will reach 37 crores with a branch network of around 24,000 and nearly 59,000 ATMs across the country. 
The merged entity will have a deposit base of more than Rs 26 lakh crore and advances level of Rs 18.50 lakh crore. 
The bank has decided to shut down almost half the offices of these banks, including the head offices of three of them. This process will start from April 24. 
"Out of the five head offices of the associate banks, we will retain only two. Three head offices of the associate banks will be unbound along with 27 zonal offices, 81 regional offices and 11 network offices of the associate banks," SBI Managing Director Dinesh Kumar Khara had told IANS in an interview last month.
Employees directly affected by these shutdowns -- estimated at 1,107 -- will be redeployed, mostly in customer-interface operations, Khara said. 
There are currently 550 SBI offices while its associate banks have 259. The target for the number of controlling offices after the merger is 687 -- a reduction of 122 offices. 
The associate banks have also offered a Voluntary Retirement Scheme (VRS) to employees who do not wish to relocate. "VRS is only an option, else they will be relocated. They will have a different role," he said. 
Along with the winding-up of these offices, a number of merger processes will come into effect simultaneously, including the data merger of the five entities. 
"Data merger will also start from April 24 and we will finish it by May end. That is the plan of action," he said, adding that the bank had given itself six months to complete all merger-related processes. 
The government had in February approved the merger of these five associate banks with SBI. Later in March, the Cabinet approved merger of BMB as well. 
SBI first merged State Bank of Saurashtra with itself in 2008. Two years later, State Bank of Indore was merged with it. 
The board of SBI earlier approved the merger plan under which SBBJ shareholders will get 28 shares of SBI (Re 1 each) for every 10 shares (Rs 10 each) held. Similarly, SBM and SBT shareholders will get 22 shares of SBI for every 10 shares. 
SBI had approved separate schemes of acquisition for State Bank of Patiala and State Bank of Hyderabad. There will not be any share swap or cash outgo as they are wholly-owned by the SBI.