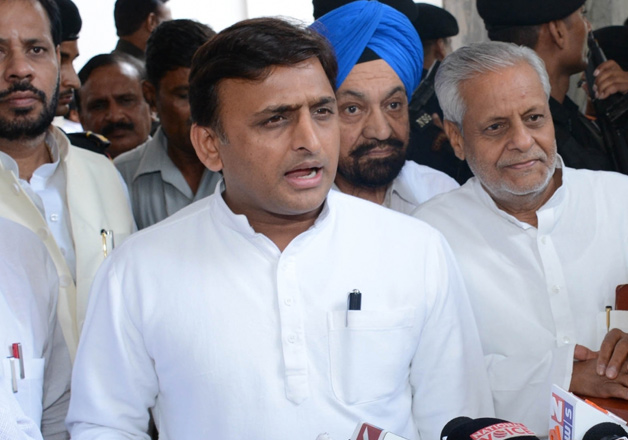 Lucknow: The Samajwadi Party today called off its merger with gangster-turned-politician Mukhtar Ansari's Qaumi Ekta Dal (QED). The decision was taken at the party's Central Parliamentary board meeting here.
"The Samajwadi Party has called off its merger with gangster-turned-politician Mukhtar Ansari's party," SP leader MP Ramgopal Yadav said, adding that Minister Balram Yadav, who was sacked by CM Akhilesh Yadav, apparently for facilitating merger, will also be taken into the Cabinet.
A major controversy was created after the merger of QED with the ruling Samajwadi Party (SP) in the poll-bound state. The merger was approved by senior SP leader Shivpal Singh Yadav, who is also Samajwadi Party chief Mulayam Singh Yadav's younger brother.
Chief Minister Akhilesh Yadav was reportedly opposed to the merger because he believed that "the decision to contest upcoming assembly polls with QED will send a wrong message to the electorate", especially given the criminal background of Mukhtar Ansari.
Soon after the merge was announces, Yadav had sacked senior minister Balram Yadav who had played a key role in the merger.
Earlier in the day, CM Akhilesh Yadav had expressed his resentment over the merger with QED saying "he will not be welcome in Samajwadi Party".
"Mukhtar Ansari will not be welcome in the party. We don't want such people in the party," Yadav said, adding that "he didn't take the decision regarding the merger".
Mukhtar Ansari founded the Quami Ekta Dal in 2010 along with his brothers Afzal Ansari and Sigbatullaha Ansari. The mafia don is in jail for his alleged involvement in the murder of Bharatiya Janata Party (BJP) legislator Krishnanand Rai.
The Quami Ekta Dal has two legislators in the 404-member Uttar Pradesh assembly, including Mukhtar Ansari who represents Mau constituency.
An Assembly election in the most populous state of the country is due early next year.