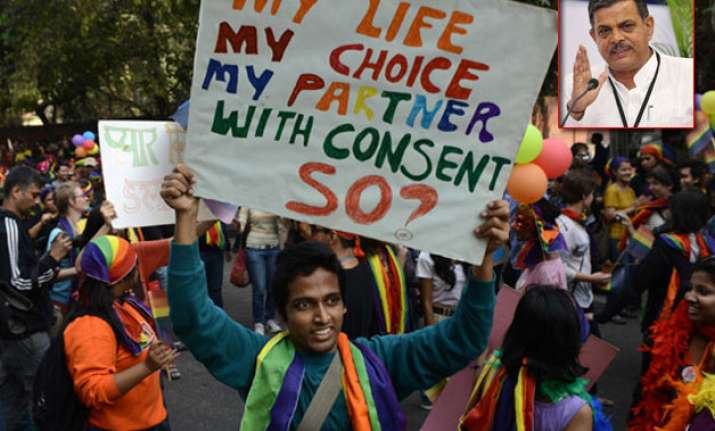 New Delhi: The Rashtriya Swayamsevak Sangh (RSS) seems to be completely in a makeover mode to keep up with the changing times. After replacing khaki half-pants with brown trousers, the Sangh has now voiced support in favour of decriminalization of homosexuality in India.
Speaking at an event here yesterday, top RSS leader Dattatreya Hosabale said that 'homosexuality should not be treated as a crime' in India as sexual preference is not a crime as long as it does not impinge on the lives of others.
"I don't think homosexuality should be considered a criminal offence as long as it does not affect the lives of others in society," the RSS joint general secretary said.
"Sexual preferences are private and personal. Why should RSS express its views in a public forum? RSS has no view on that. It is for people to have their way. Personal preference of sex is not discussed in RSS and we don't even want to discuss that," Hosabale added.
Hosabale observation on the issue assumes significance as it comes few days after the Lok Sabha rejected a bill, presented by Congress leader Shashi Tharoor, to decriminalise homosexuality in the country.
Section 377 of Indian Penal Code terms homosexuality as unnatural and carries a maximum punishment of 10 years in jail. Going by the global trends in this regard, there have been demands within the country to decriminalise homosexuality.
Striking a blow for personal freedoms, the Delhi HC had in 2009 called Section 377 discriminatory and struck it down. However, the SC in December 2013 upheld the 158-year-old law, a relic of the British era, outraging liberals and LGBT activists alike. In relief to the LGBT community last month, the SC referred the curative petition to review its 2013 order to a constitution bench.
The Sangh had last week singalled a major shift in its stance by supporting the entry of women into the sanctum sanctorum of various Hindu temples in India. Hosabale said that women are free to participate in RSS run Shakhas.
On the widespread criticism that being the BJP's ideological parent, the RSS controls the party, Hosabale said, "We don't remote control the BJP."
With PTI Inputs