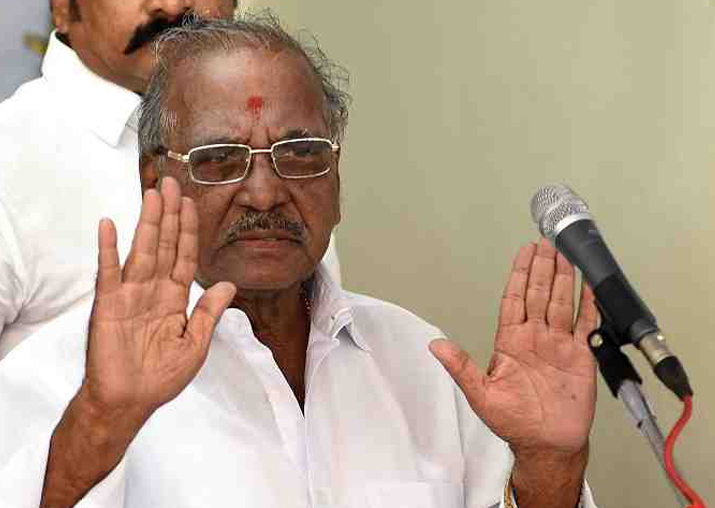 The ruling AIADMK today fielded party veteran E Madhusudhanan for the December 21 bypoll to the Radhakrishnan Nagar constituency here, setting the stage for a political fight among rivals who faced off earlier.
Madhusudhanan will take on DMK's M Maruthu Ganesh and sidelined AIADMK leader T T V Dhinakaran.
All three were in the fray for the April 12 bypoll to the city constituency, which was rescinded by the Election Commission following complaints of money distribution.
Dhinakaran was the candidate of the ruling dispensation backed by Tamil Nadu Chief Minister K Palaniswami then, while this time, he will be a virtual outsider after being sidelined by the Palaniswami-led camp.
Madhusudhanan was fielded by the then rebel camp headed by present Deputy Chief Minister O Panneerselvam.
He is not a new face at RK Nagar as he represented the constituency during the 1991-96 period, the first tenure of late J Jayalalithaa as chief minister. He was also a member of the state cabinet then.
Last week, Dhinakaran lost the battle for the party's 'Two Leaves' symbol, with the Election Commission awarding it to the unified AIADMK.
It was seen as a setback for him and his aunt and deposed party leader, V K Sasikala, who is currently serving a four- year sentence in a Bengaluru jail in a disproportionate assets case.
An AIADMK release today signed jointly by party coordinator Panneerselvam and co-coordinator Palaniswami, announced the candidature of Madhusudhanan for the hustings.
Various applications were received from aspirants willing to face the bypoll, the release said, adding the party 'unanimously' chose Madhusudhanan's candidature.
Earlier, a section of the media had reported that the party could not zoom in on its choice of candidate following differences between supporters of Panneerslevam and Palaniswami.
The bypoll, necessitated following the death of its MLA and then chief minister Jayalalithaa in December last, is being seen as a litmus test for the ruling AIADMK, which witnessed rare rebellion and factionalism this year, by Panneerselvam and Dhinakaran, respectively.
The bypoll is also being seen as a possible report card of the 18-month-old AIADMK government which saw two chief ministers head the state during this period.
While Panneerselvam was made chief minister after Jayalalithaa's death, Palaniswami took over from him after the former rebelled against then party chief Sasikala, alleging he was forced to make way for her elevation to the state's top post in February this year.