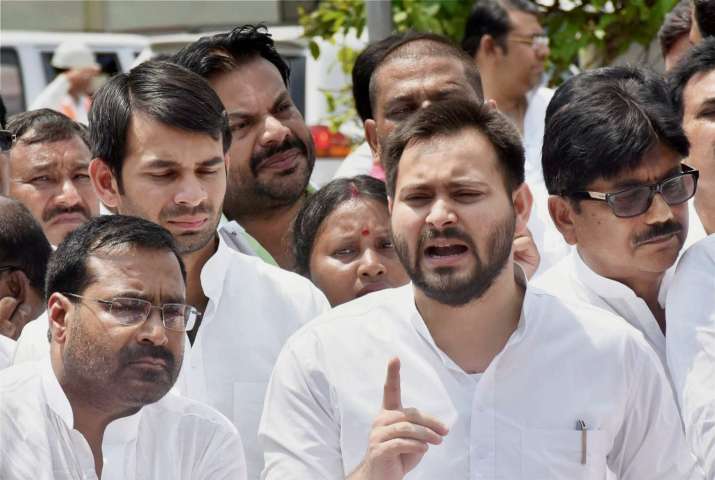 A day after Lalu Prasad Yadav's blistering attack on Nitish Kumar, his son Tejashwi on Wednesday accused Chief Minister  Nitish Kumar of double standards and said his inner conscience wakes up as per his own convenience. Claiming that more than 75 per cent ministers in the new JD(U)-NDA government have criminal cases pending against them, Tejashwi asked when the Chief Minister will seek the resignation of tainted ministers.
Talking to reporters in Patna today, former Bihar Deputy CM son said, "More than 75 per cent of your minister is tainted including Chief Minister, Sushil Modi is charged with same criminal charges registered against me. Will Nitish ji seek their resignation?"
Tejashwi said Nitish's break-up in the guise of fight against corruption and subsequent tie-up with the BJP was all pre-planned. 
"Nitish ki antaratma kaha hai, ye kaisi antaratma hai, kya ye kursi-atma hai, ya fir ye Modi atma hai, ye kaisi atma hai jo apne aap jagti hai or apne hisaab se so jati hai, (where is Nitish Kumar's conscience now? What kind of conscience is it? Is it the conscience for power? Or is it the conscience for Modi? What " Tejashwi said in reference to Nitish's statement where he said he listened to the voice of his inner conscience and resigned. 
The RJD leader said that the FIR against him was used an excuse to break ties with RJD and Congress. 
Questioning Nitish's intention to fight corruption, Tejashwi said why the Chief Minister has not demanded action in Panama papers case or Vyapam scam in Madhya Pradesh. 
"The people of Bihar demand an answer to all the questions these questions from Nitish Kumar. Will Nitish ask Prime Minister Narendra Modi to conduct a probe against people who have been named in Panama Papers leak case? That day will never come..as all accused are together," said Tejashwi. "Will he speak on Vyapam scam where close to 50 people have died." 
Tejashwi also charged Nitish with arrogance and said JD(U) chief's attitude will be the end of him. 
"Nitish's arrogance will destroy the present government very soon and he will also fail in completing his tenure. If Nitish didn't want to work with us then why did he wait so long? Government changed four times in last four years but the Chief Minister has remained the same," he said. 
Yesterday, Tejashwi's father had accused Nitish of "betrayal" and alleged that the "match was fixed" between him and the BJP to form a coalition government in the state.
"Tejaswi Yadav was just an excuse ... The match was fixed between him (Kumar) and the BJP to form a government together," Lalu had said. Calling Kumar an "opportunist" and "Paltu Ram" (turncoat), he said, even if Tejaswi had tendered his resignation the JD(U) leader would have gone ahead with his plan to split the alliance.
On Monday, Kumar had said he had no option but to walk out of the Grand Alliance as he did not want to compromise with corruption.