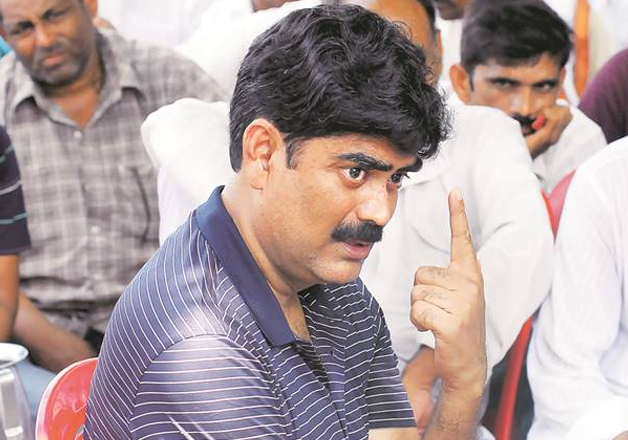 Rashtriya Janata Dal (RJD) strongman Mohammad Shahabuddin was shifted from Siwan Jail to Patna's Beur Jail amid tight security in the wee hours today. From here, Shahabuddin will be taken to high-security Tihar Jail in the national capital. 
The don-turned-politician was escorted out of the Siwan Jail around 2:40 am, flanked by security personnel and police. However, despite the secretive efforts of the prison administration, supporters of Shahabuddin got wind of the developments and gathered outside the jail from midnight onwards to get a glimpse of their leader.
Carrying on with their operations, the Siwan administration escorted Shahabuddin to a white Tata Sumo, where he was lodged between two armed security officials.
From Patna, Shahabuddin will be taken to the national capital via rail or airway and then moved into Tihar Jail later this evening.
During the course of his transportation from Siwan to Patna, at least three vehicles of Shahabuddin's supporter were spotted escorting him. When the police's convoy arrived in the Naya Gaon of Chhapra, security personnel stopped the three vehicles and took the keys away, thus stopping his supporter from accompanying the RJD leader.
Earlier on Wednesday, the Supreme Court had directed that the RJD strongman be shifted from Siwan Jail to Tihar Jail on the plea of the widow of slain Siwan journalist Rajdeo Ranjan.
Directing the Bihar government to transfer Shahabuddin to Tihar Jail, the apex court had given one week time. 
Shahabuddin is facing trial in 45 cases. The top court had sent him back to jail on September 30, 2016, as it reversed a September 7, 2016, Patna High Court order granting him bail.
The court's order came on a plea by Asha Ranjan whose journalist husband Rajdeo Ranjan, - the Siwan bureau chief of Hindi daily Hindustan - was shot dead in May last year allegedly at the instance of Shahabuddin for exposing his activities in Siwan jail, and another plea by Chandrakeshwar Prasad whose three sons were killed in two separate incidents by the henchmen of the RJD strongman.
Asha is a contractual teacher in a government-run school in Siwan.
The plea for shifting Shahabuddin to Delhi was backed by the Bihar government which had on November 29 last year told the top court that it was not averse to it, including transfer of trial in 45 cases.