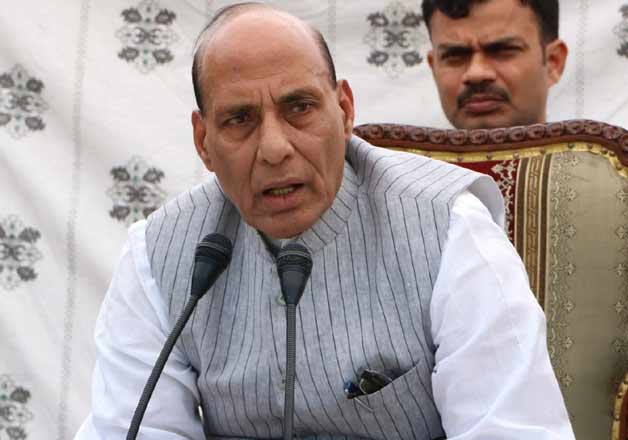 Union Home minister Rajnath Singh has directed security forces to crack down on those instigating violence and choreographing stone pelting mobs in Jammu and Kashmir and try to bring back normalcy in the border state within a week.
The Home minister's directive came during an hour-long meeting on Sunday which was attended by top security officials, including National Security Advisor Ajit Doval, besides others.
PTI reported that Rajnath Singh ordered that normalcy should be brought back within a week and school and other educational institutions should function as students are the worst hit as a result of the prolonged turmoil.
Sources said that Rajnath told officials that attempts should also be made to reopen shops and other commercial establishments.
They said that Rajnath Singh conveyed that the security forces must go after the instigators of the violence in Kashmir and book them as they continue to disrupt normal life for 66 days after the killing of Hizbul Mujahideen militant Burhan Wani on September 8.
So far, 75 people have lost their lives in the violence.
Singh, who yesterday reviewed the situation in the state, was briefed on the prevailing situation as well as along the border and the steps taken to restore normalcy in the state. The meeting took place in the backdrop of fresh killing of a policeman and three militants in two separate incidents on Sunday.
Three militants and a policeman were killed and six others, including an police officer, were injured in twin encounters between security forces and four terrorists in Poonch town.
Meanwhile, a senior police official today informed that restrictions have been imposed in Anantnag, Kulgam, Shopian and Pulwama districts with authorities deploying security personnel in Srinagar and other places in the Valley to maintain law and order.
The Valley will remain shut despite Eid celebrations on Tuesday, the official added.
Two of the most sought after food items on Eid, mutton and bakery remained unavailable to the people of the Valley. Educational institutions, main markets, public transport and other businesses remained suspended.