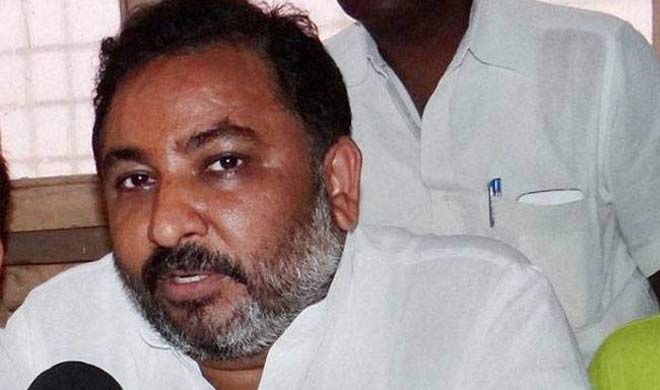 After being on the run for over a week, expelled BJP leader Dayashankar Singh, whose derogatory remarks against BSP chief Mayawati caused a huge uproar, was arrested on Friday in Bihar's Buxar.
The former Uttar Pradesh BJP vice president was arrested in a joint operation led by state police departments of Uttar Pradesh and Bihar.
Singh was recently spotted at a Shiva temple in Jharkhand's Deoghar district.
Additional Superintendent of Police Keshav Yadav told IANS on telephone from Buxar that a joint team of the Uttar Pradesh Special Task Force (STF) and Bihar Police nabbed him from Chini Mill area in Buxar.
"He will be taken to Uttar Pradesh," Yadav said, adding it was being investigated when he reached Bihar and with who he was staying.
A non-bailable warrant had been issued against Dayashankar Singh, a Bharatiya Janata Party leader from Uttar Pradesh who on July 19 made the remarks against Mayawati at Mau in the state.
Singh had said that "Mayawati is breaking the dream of Kanshi Ram into pieces. Mayawati is selling tickets like a...
"Mayawati gives tickets for Rs one crore and if there is someone who can give Rs 2 crore than she sells it for Rs 2 crore within an hour. If someone is ready to give Rs 3 crore by the evening, she gives the ticket to him. She is even worse than a sex-worker," Singh had said.
A case was registered the next day and the BJP expelled him. He had been on the run since then.
The comment incited revulsion and condemnation during a lengthy debate in parliament. Mayawati delivered a forthright speech in which she warned that if Mr Singh were not severely dealt with, Dalits, the caste that she belongs to, would erupt in protests across the country.
Singh's family members claimed harassment by BSP members and threatened to file an FIR against them. A Bihar Court subsequently ordered an FIR against Mayawati and other BSP leaders for 'inflammatory' comments on the whole episode.