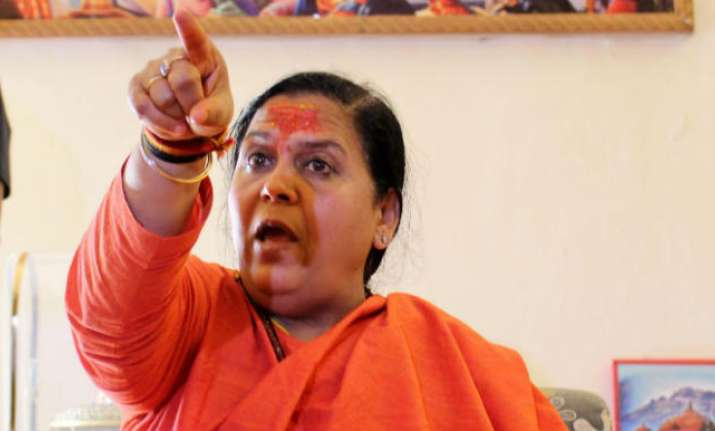 Union minister Uma Bharti has ruled out any conspiracy in the demolition of the Babri Masjid and that there was no question of her stepping down from her position in the central government.  
Bharti's remarks came after the Supreme Court's decision to revive criminal conspiracy charges against BJP leaders LK Advani, Murali Manohar Joshi, Union Minister Uma Bharti and others in the in the Babri Masjid demolition case.
Bharti said that there was no conspiracy in the Babri Masjid demolition and everything that happened was in open. 
"Koi saazish nahi thi, sab khullam-khulla tha. Mann mein aisa kuch nahi tha (There was no conspiracy at all. Everything was in open)," said Uma Bharti.  
"Mujhe faansi ho jaye, jail ho jaye — Ayodhya ke liye, Ganga ke liye, tirange ke liye — mai taiyaar hun (I'm ready to sacrifice my life, ready to go to jail for Ayodhya, Ganga river and national flag)," she added.
Soon after the development, the Congress stepped up its attack on the BJP, seeking the resignation of Bharti and Rajasthan Governor Kalyan Singh who stands exempted from trial as he holds a constitutional position.
Congress spokesperson Sanjay Jha has said that the charges against senior leaders, like LK Advani, are "a message for BJP".
Senior party leader Kapil Sibal said that Congress will demand resignation of Uma Bharti and Kalyan Singh.
"It's substantial step forward in the cause of justice. Means the majesty of law has been upheld, happy about that," said Sibal.
"So much of efforts have been made by BJP so that justice is not prevailed. But justice delayed is justice denied. Those BJP leaders who are accused should give their resignation. By doing this they should give the message of mortality. They should also accept what court has said," said Congress leader Pramod Tiwari.
Reacting to the Congress' demand, Bharti said that a party which was behind the Emergency and 1984 riots, which claimed thousands of lives, had no moral right to seek her resignation. 
"Party which was behind Emergency and 1984 riots has no right to demand my resignation," she said. 
Escalating her attack on the Congress, Bharti said, "I want to tell the country it's time for the Ram Mandir to be built. There is no conspiracy. Yes, I was there in Ayodhya on December 6... I'm not one of those who are glued to power."
"Why should I regret it? I was involved in the Ayodhya incident. I remain unrepentant. This country belongs to the cow, Ganga, Ram and the tricolour. I will defend them at any cost," she added. 
The apex court today allowed the CBI plea to restore criminal conspiracy charges against top BJP leaders L K Advani, M M Joshi and Uma Bharti in the 1992 Babri Masjid demolition case. 
The court also clubbed the trial in the matter pending against the said leaders and 'karsevaks' and ordered day-to-day trial with the proceedings to be completed in a period of two years.
The CBI was contesting the May 2010 order by the Allahabad High Court absolving Advani and others of the charge of criminal conspiracy that led to the razing of the 16th century mosque.
The apex court had on March 31 issued notices to Advani and others asking them to file their replies on the plea by the CBI. 
The CBI had chargesheeted Advani and 20 others under Sections 153A (promoting enmity between classes), 153B (imputations, assertions prejudicial to national integration), 505 (false statements, rumours etc. circulated with the intent to cause mutiny or disturb public peace) of the Indian Penal Code (IPC), Section 120B (criminal conspiracy) of the IPC.
However, all the charges were quashed by the special court whose decision was upheld by the Allahabad HC.