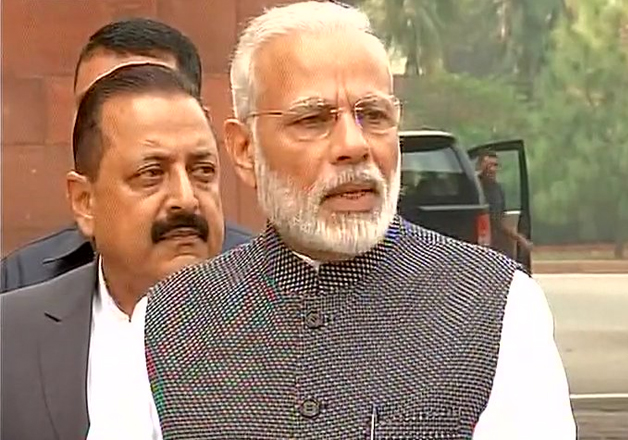 Prime Minister Narendra Modi today said that the government looks forward to debate every issue in an open manner during the month-long Winter Session of the Parliament.
"Today the session of the Parliament is commencing. The last session witnessed the historic GST passage. Am sure we will have good debates on various issues, parties will present their views on issues. We will talk about people's aspirations," he told reporters outside the Parliament. 
"The government believes in debating every issue in an open manner, as this sets the stage for very good decisions. I am hopeful of getting support from all parties," the PM added.
The Parliament is set to witness a firestorm of protest on the issue of demonetisation when it meets for the Winter Session today, with a joint opposition having readied itself to put the government on the mat. 
While Mamata Banerjee's TMC failed to build a consensus on her party's proposed to march to Rashtrapati Bhawan today to protest demonetisation of high-value currency notes, 13 parties led by main opposition Congress have said that they will raise the issue of hardship faced by the common people due to the exercise aimed at squeezing out black money from the system. 
At a meeting of 13 opposition parties yesterday including arch rivals TMC and CPI-M, besides BSP, SP, JD-U and DMK, opposition leaders unanimously concluded that it was too early to visit the President on the issue which must first be raised adequately in parliamentary forums. 
An all-party meeting, which was also attended by the Prime Minister yesterday, saw him seek the opposition's cooperation for demonetisation exercise aimed at tackling black money, counterfeit currency notes and terror funding, but his unrelenting rivals picked holes in it and accused him of not adhering to the principle of confidentiality and leaking information about the impending action.