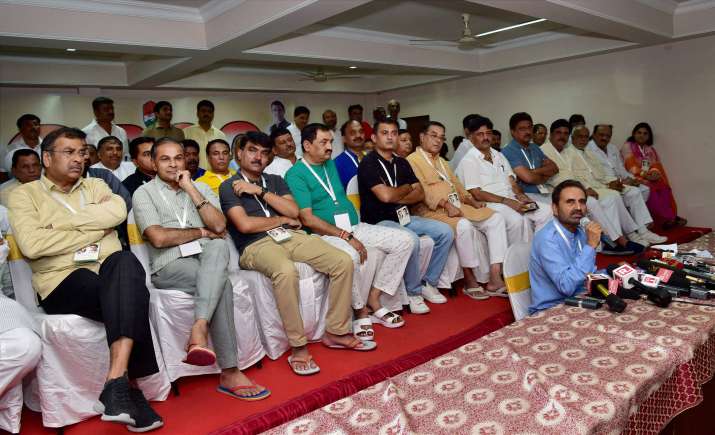 Gujarat Congress legislators, camping at a private resort near here, will be flown to their home state tomorrow ahead of Rajya Sabha polls on August 8. Party sources today said that MLAs will return directly to Gujarat and not to Delhi as has been reported in a section of the media.
The Gujarat Congress had sent 44 of its MLAs here on July 29 to fend off the "poaching" attempts by the BJP, ahead of the August 8 Rajya Sabha poll in that state, in which Ahmed Patel, the political secretary to Congress chief Sonia Gandhi, is contesting. Patel is seeking a fifth Rajya Sabha term from Gujarat. 
Denying the reports that the MLAs would first be flown to Delhi to meet Sonia, Congress spokesperson Shaktisinh Gohil told reporters here that they would be returning to Gujarat "directly". 
However, he declined to disclose when would the MLAs return to their home state. 
"One thing that has been decided is that all of us (the 44 MLAs) will fly to Gujarat, not Delhi," he said. 
Gohil alleged that it was the BJP, which was spreading "canards" that the Congress MLAs would first be flown to the national capital to meet Sonia. 
He also charged that the saffron party was spreading "false reports" that the MLAs would use the 'NOTA' option in the upcoming Rajya Sabha poll to defeat Patel. 
The Congress has objected to the 'NOTA' option in the Rajya Sabha poll, which is being seen as a prestige battle for the party in Gujarat. 
Gohil asserted that all the Congress MLAs were "united" and that they would vote for Patel in the August 8 election. 
Six of the 57 Congress MLAs in Gujarat have quit the party recently with three of them joining the BJP on July 28. Ahmed Patel requires 45 votes to win the election. Though the Congress has claimed it has the support of 44 MLAs, remaining seven of the party's 51 legislators, who are not in Bengaluru, have not put their cards on table yet.
Meanwhile, senior NCP leader Praful Patel today said his party has not decided yet about extending support to any party in the August 8 Rajya Sabha polls in Gujarat. The Sharad Pawar-led party, which had a pre-poll alliance with the Congress for the 2012 Assembly polls in the state, currently has two MLAs--Kandhal Jadeja and Jayant Patel. These two MLAs had said they voted for the joint 

opposition's presidential candidate Meira Kumar. 
The BJP has fielded its president Amit Shah and Union minister Smriti Irani on two seats, and Congress defector Balwantsinh Rajput on the third against Ahmed Patel. The BJP, with 121 MLAs in the House, can easily get Shah and Irani elected. However, the party falls 14 short of the 45 votes required for Rajput's victory.
(With PTI inputs)