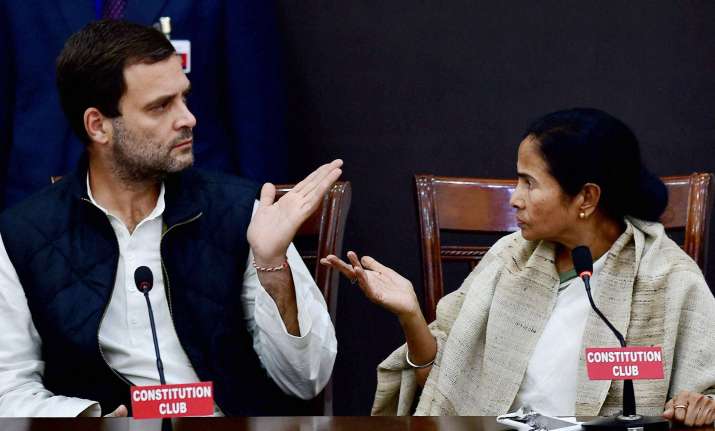 The bubble of opposition unity had burst before it could even take off, the Bharatiya Janata Party (BJP) today said, as it termed the the Congress-led meet of eight parties against demonetisation as Rahul Gandhi's "flop show".
Noting that only eight of the 16 parties which had joined hands in Parliament against the Modi government over note ban were present today, Union minister Ravi Shankar Prasad took potshots at Rahul, saying it was increasingly becoming clear that he lacked "maturity and gravitas" and that he would soon be left alone to "hurl abuses without substance".
Prasad told a press conference that the opposition's exercise was "laughable" as, he said, those who were behind scams like 2G spectrum, Saradha chit fund and coal block allocations had come together to attack Prime Minister Narendra Modi.
"We all saw Rahul Gandhi's flop show today. Those who claimed about opposition unity could merely bring together eight of the 16 parties. Soon they will be reduced to four. Then Rahul Gandhi will be left on his own...to hurl abuses without substance. The bubble of opposition unity has burst before it could take off," he said.
The senior BJP leader kept Congress and Rahul Gandhi in his line of fire and skipped any mention of TMC chief and West Bengal Chief Minister Mamata Banerjee, who has been a staunch critic of the government's demonetisation move and again attacked Modi in today's exercise.
Noting that earlier parties would work together to put up a joint front against Congress, he said the opposition's press conference today was a victory for BJP and loss for Congress as it showed that the saffron party has emerged as the centre of polity now.
Rahul and his party have been the biggest patrons of corruption, Prasad alleged, saying that he kept quiet during the UPA government when several scams happened.
Attacking the Congress vice president over his charges against Modi, Prasad said these were "baseless and shameful comments".
"Everyday we get this indication that Rahul Gandhi lacks maturity. It is increasingly evident that his utterances are lacking in maturity and gravitas. Even today we saw that he made some baseless and shameful allegations against the Prime Minister which the leaders sitting beside him did not repeat. It itself makes clear how serious are his comments," he said.
The demonetisation exercise, Prasad said, is aimed at turning the country honest and that the people have backed Modi.
"The opposition's press conference makes it clear that who have been the worst hit by this. Such parties were sitting together who are linked with biggest scams in independent India... We all know that severe action is being taken by the government daily. Why is Rahul Gandhi troubled?" he asked.
The Law Minister also alleged that Gandhi wants to help those with suspect accounts in Swiss banks by demanding that the government disclose their names.
Prasad said disclosing those names before these account holders were charge-sheeted will go against bilateral treaties with different countries and the Supreme Court has "appreciated" this stand.
Asked about Gandhi's demand for a probe into Birla and Sahara diaries details which, he has alleged, showed Modi's "personal corruption", Prasad hit back demanding his response to scams during the UPA government Gandhi played a role in scuttling the "honest probe" into the 2G scam by JPC, he alleged.
Prasad also attacked AAP for "evading" questions on its donors and said it was doing so even after its "godfather and guru" Anna Hazare wrote a letter to party chief Arvind Kejriwal in this regard.
(With PTI inputs)